The 2007 President's Cup at Royal Montréal, PQ
We flew up Friday for the Saturday and Sunday matches. What a terrific time. Here are some highlights.
Ran into my friend and co-worker and Brian Fancy at YHZ. The flight to Montréal only took one hour and twenty minutes, sweet. Cabbed to the Sofitel, checked in and unpacked and went for a walk as we waited for our friends Angela and Jim driving in from Burlington. A short a pleasant walk thru McGill Campus, wow what green space they have, down thru a mall and liquor store and th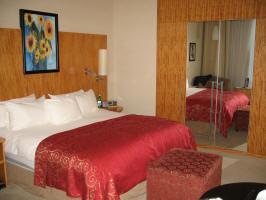 en around the block for a Grande SFHNFL (explained here but you may have to read a bit). As we entered, the sky darkened. We thought, poor professional golfers, they may be getting wet. He he he... Upon leaving and walking a block or so towards our hotel which was 6 or so blocks away, seems the golfers were not getting wet since the thunder storm was about to happen here. Boom, down it came. We ducked under an awning here, doorway there, thru a hotel, thru a who knows what... And eventually (quickly) soaked, we arrived back at our hotel.
After a hot shower and cleaning up, we hooked up with Jim and Angela in the bar no less for a couple of drinks and off to La Brunois for dinner. I had the duck. Fun was had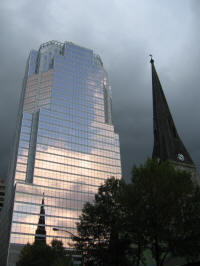 by all. We hadn't seen Angela since April 2006 in Varaderro.
S-a---t-u-r---d-a-y hey hey, on our way to Royal Montréal courtesy of Jim's driving, Angela who doesn't understand -oops- like golf stayed back to go "shopping". We drove to a car drop off, got on a shuttle and were on the course in under an hour. Bought these neat one-ear phones which had a 24 hour battery that broadcasted the sound from the telecast - brilliant! And through out the course, there were huge video screens that added to the thrill of being able to watch action live in front of you but still feel you were at home watching all the action on the course. Except here, hamburgers were $8, home on the BBQ I could do one up for under a buck.
We parked ourselves at the landing area for tee shots coming off #8, right hand side, where most amateurs slice the ball. Zing... A ball whiz's over our head onto the rough amongst a small apple tree. Can't remember who it was, but his partner had to play it, and he did, onto the green. Next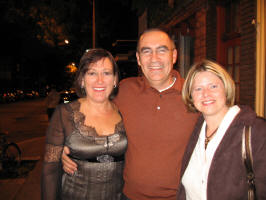 group... whiz. Same result except this poor soul had to chip sideways. Hey I could have hit those shots! Next group... A big man strolled, (slowly) (as they all do) (if I did this at Oakfield it would take 5+ hours to play) (and I would be kicked off the course) his knuckles almost dragging, my favorite player, hey it was Phil Mickelson. His ball was in the fairway, perfect, he didn't hit the tee shot of course, so he was to hit next. Next group, Tiger, 20 yards away hitting his partners tee shot from the rough between fairway and bunker. All these golfers looked larger than life. Caricature of themselves.
We then walked over to the side of #15 between #15 and #16 to watch the tee shots land there. Met Gordie and Andrew from Oakfield. Here we had the big screen across the water on the other side of #16 which made it entertaining to stay here. I did notice however that the sound these guys make when hitting their irons - a thwack - a sound I have never heard nor made. And their balls go like a bullet, piercing the air and landing softly usually where they wanted it to. One guy hit a "smack" while I was chatting with Lisa and I said "hey now that sounds like when I hit it good". He was 20 yards short! Oh well. They have better equipment. Once they played through and the matches neared completion for the morning round, off we went for a burger, chips, cookie and pop (each) for about $45.
We watched the next round from the bleachers behind #10 tee. We had a near 2 hour wait for them to get there, and it was hot. The course was in great shape. They did get rain earlier in the week, but it did not af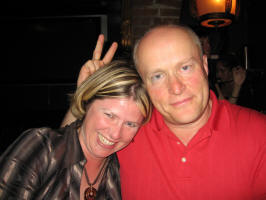 fect play. They said they had drainage pipes every 6 feet under the fairway, and even with 2 days of pouring rain, you can drive carts the 3rd day down the fairways. From this vantage point, with our handy binoculars (8x power), we could see them up the hill on the tee hit the ball, follow the flight to the fairway (or left woods) (slice or push away from the right side which had water). Couldn't believe how many thought the woods was the correct landing zone. Brian was up on the 10th tee watching from that vantage point, so he says. Then we watched them hit onto the green, or bunker or rough, and attempt to put out. Of the 6 groups, we birdied 1, the US 3, and 3 were halved. Not a good show.
Anyway, after they played through we watched a bit more here and there and split for the hotel, Angela and dinner out awaited us. We went to Verses, I had the duck. Then off to the House of Jazz - very nice, and back to the hotel for mor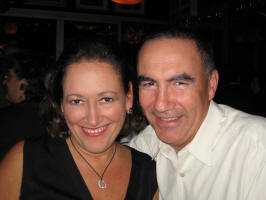 e drinks. Suffice to say, a long hard day, almost as hard as a day at the office. Tonight we said tah-tah to Angela and Jim as they are leaving early to drive home.
Sunday morning, down to the lobby to buy a couple of bus passes from the Roadtrips guy, they were the official seller of the event, and they have shuttle buses going from our hotel direct to the event. While we bought those, in the lobby, we were able to swing a couple of upgrades to Club Class - gratis. I slipped the gentleman a couple of twenty's for it. And off we went.
When we got there, we went to the bottom of the #1 tee and watched them tee off. My monkey buddy hobbled down after his tee shot into the woods. Tiger growled his way down - never seems to be in a good mood unless he is winning, and here on #1, the fans were favoring Weir. The Woody (aqua man) hit. "GO WOOOOOODYYYYYYYY" scream this lady next to me. Lisa asked if she was American. She said yup and "I am Woody's sister." Cool. And there around the tee was US President Bush senior who always attends this event and his lovely wife; as was Jack and Gary.
So we walled up back of the tee where we stood behind a string barricade. Yup one thin piece of twine. 12 yards away they all stood. I asked Lisa if I had any chance of slipping under, taking a few paces and asked to shake Bush's hand before I was intercepted, jumped or shot. My lawyer advised against it. Cool, the president, merely 12 yards away. And Jack too, the greatest golfer of all time! I jigger you Tiger!
From here we went to the club area to enjoy our upgrade. We got to eat under a tent, with a plasma TV at each table, with private washrooms (wood paneled), clean, flush toilets etc. There was a hot and cold buffet in the club house where we could have dined. None of it free of course. Hamburgers were still $8. :)
Then off to #14 to stand at the landing area and watch them (hopefully) try and drive this green. A few tried. Els tried, landed in a bunker, yet still birdied it. Then came Weir, perfect iron lay up to exactly where we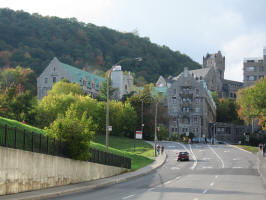 plunked ourselves (next to the NBC statistician who knows where the landing areas are) - 110 yards out. Then Tiger hit, an iron as well, 30-40 yards further, and into the fairway bunker. WHAT was he thinking. Either lay up or go for it. 50 yards from the green not the place to land. Then came the entourage... first Roger Maltbie with headset and mike to closely check out Tiger's lie. The stats guys pacing off the plotting in their book where the drives landed. The caddies, players, official scorer, score carrying volunteer, several photographer with honking $25000 lenses, the wives. All inside the ropes. Mistresses/girlfriends had to walk outside the ropes. Anyway, both hit off the back of the green, Tiger par, Mike bogie.
Now Mike's lead was cut to none - all square.
Actually from here, we were able to watch them play #10 since we could see all but the tee. So we saw Mike and Tiger across the fairway and pond play #10 earlier. Mike was up 3 at that time. Tiger missed a 12 foot birdie, and Mike missed a 8 footer that would have given him 4 up with 8 to go. That spelled trouble.
Back to the present. We watch a few others play and then headed for the bus rendezvous via #16 and #18. During this time, Mike was in the water on #15 and swinging needing to sink it to half the hole. Nope, Tiger up one with two to go.
We saw them hit into #16 green and decided to keep walking, get the early bus.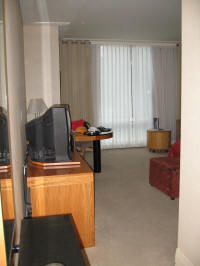 All was over. The US was going to win, actually they had already won. Then we hear a roar on #17. Weir birdied. All square.
So we just happened to be on the left side of #18. We had a choice of standing at the far end of the pond away from the tee short of the landing area or at the landing area 20 yards further. At the landing area, plunk from the sky came Weir's ball - perfect. Then Tiger hit. I turned toward the tee. Splat - splash, I saw the people 20 yards away almost get hit. Tiger's ball was yards short of making it into the rough where we were - yet still short of Mike. Miss hit! Tiger dropped, and got very close to the green, needed a chip in - nope. Canada beats Tiger - up one.
A rush for the shuttle, an easy ride back, where we phone Mario (and friend of mine) who too was up for the matches and we went to dinner with him and Annalee. A few drinks in the bar then off to a pub called Dundee's, nice, the menu was sans duck. Had my camera, and forgot to get a photo of the 4 of us, sorry guys.
Next day, an hour and change in the air and we were home. Montréal was great. We did not have enough time (or any time) to explore it. We will return soon. We love Montréal .