2006 Cuba Blog
Fri: Day 01: 30C - NO CLOUDS IN SIGHT - a bit windy
Woke up, drove to Park'n'Fly. Bought a duty free Bailey's and Halifax ball cap. Got on plane. Landed in Cuba.

Lisa went thru passport control in 2 minutes. Took me 15. He asked me question after question. How many times you been to Cuba? This is my second. What do you do? Work for the government. What do you do for the government? Work for Department of National Defence. <He calls his buddy in for a chat.> What do you do specifically? <I should have said manage a Project Management Office but I knew that I would get another slew of questions so I said> Program computers. <Oops, after I said it I figured not the best answer. He calls his buddy back.> How many times you been to Cuba? This is my second. <and my second time telling you this pal.> You here for business or pleasure? <what do you think pal> Vacation... CLICK. Ok, have a nice stay.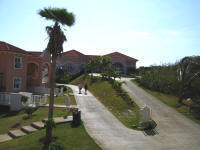 Lisa changed money, I got luggage, went outside and we were whisked by our Air Canada rep to our awaiting limo (aka taxi cab) for our ride to Sandals Princessa Del Mar (Varadero).
When we arrived we were taken by electric 8 passenger golf cart with our luggage to the Hill Top for champagne and private check in. Then again into the cart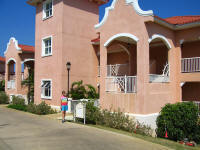 for a 100 yard ride to our building.
We were in our rooms within 20 minutes of getting out of the limo (taxi cab). View room.
Lathered up (SPF 40) and went for a recon. To the ocean for a quick swim. Water refreshing, almost a bit cool. Checked out the main pool. Then off to the concierge pool on the hill top and into the (heated) pool. Ahhh.
Dinner that evening at the private dining room, had the lobster and steak. Yummy.


View from our balcony

Sat: Day 02: 31C - NO CLOUDS IN SIGHT - a bit windy
Buffet for breakfast and lunch. We'd say below par. Hung out at the main pool for a while and then to the ocean for a swim. Warmer than yesterday. Then off to the hill top pool (only heated pool in Cuba).

There were a couple of girls (aka ladies) frolicking (OK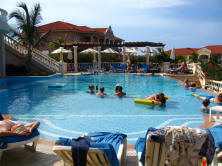 having a drink and chatting). I too was in the pool on a floater. As Lisa entered the pool I said to her "OK Do what Coco would do, go make us some friends." And so she did, she introduced herself to Angela and Kim and presto - we were no longer alone.
Angela (marketing exec, ex-ballerina and all around great mom) was with Jim (big shot nice guy exec) (Burlington), Kim (horse trainer) was with Allen (Crown Attorney i.e. lawyer) (Ottawa). And friends of Kim and Allen were Frank (RCMP) and Heather (vice principal). Notice everyone was paired up, yup, couples only resort. The plan. To meet in the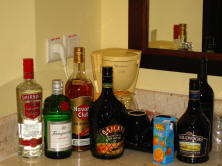 lounge at 1900 and head for the buffet - they were having lobster night. So off to the gym - where else - for 4k of spinning and 3k of jogging. Meanwhile while we were at the pool, our bar order for our mini bar arrived. Bailey's brought from home by Lisa.
1905 Lisa is not ready yet, so I rolled because I did not want to have people waiting for us. I get to the lobby, empty except a couple sitting in the corner just inside the main door. So I sit across from them and figure hmmm, I guess everyone else is late. Five minutes go by, I take a nonchalant peek at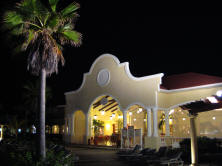 the couple. Five more minutes go by. No Lisa. No new friends. The manager introduces himself to me and we chat for a minute. I sit back down. Take another glance to the right. "Jim? Is that you?" Well yes it was, and they were about to leave figuring we stood them up. Hey, people look different at the pool nearly naked with dark sunglasses, ball caps, wet hair etc. And there comes Lisa strolling up the lane.
Suffice to say we had lobster(s), wine, more of each and even more. Then off to the disco to see the "Tropicana" show, a bit of singing and dancing in clothing a dentist would supply - floss.

Room service for breakfast. Ordered the Caribbean (which is continental (breads and fruits) and an egg dish). Got just the egg dish. I.e. we got bacon and eggs each. Called again and explained we also wanted the continental. Got another pair of egg dishes. Called a 3rd time. Ahhh. Got the continental "stuff" and 2 more egg dishes. Suffice to say they tried very hard, language barrier no doubt. We used room service many many more times (even at 3AM) and it was perfect every time.

Off to the pool (heated pool). And then lunch at the hill top (i.e. a mere flight of stairs up).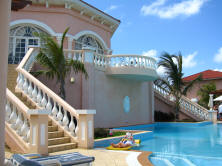 Then hung out at the (heated) pool until just after 7pm.
Back at the room, our maid Yancey left us some towel art. Actually we got towel art every single day - she was great.
Dinner tonight we were on our own. Jim and Angela had Italian reservations and we had nothing so we were going to the hill top. Actually I was going to the hill top. Lisa had a wee too much to drink at lunch (at the pool) and I don't mean water. So I had a nice feast of shrimp cocktail and salmon. I asked for a glass of red wine, got a bottle, so felt obligated to drink it all. The wine here was great.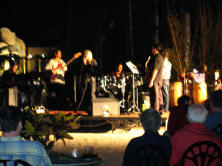 Our favorite was a Chilean red called "Nazareeno Cabernet Sauvignon". After my solitary meal, I met the gang at the main square for a jazz concert. The musicians here are unreal. Frank and I had a great chat, he is also very into photography and music.
I should mention, dining down here was terrific. At all dinners in all restaurants there was music, either piano or various combinations of strings and guitars. All of the seven restaurants had a grand piano. The musicians were often from the Havana Symphony. At the hill top, we had music for all meals, and even violin at the adjoining gazebo for afternoon tea and crumpets (pastries, really) - hence the need for the gym.

Mon: Day 04: 31C - NO CLOUDS IN SIGHT
Breakfast at the hill top (alone). 0900 is too early for Lisa especially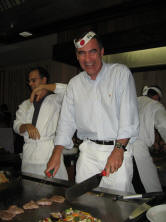 after a hang over. Music to my ears as I ate, the cello was heavenly. Then down the stairs to the pool, heated, did I mention that? After some swimming, tanning and drinking (Lisa was here by now), we decided to do an excursion. We walked down to the Racquet Club for a snack, then the ocean, the common pool and back. Cuba was playing baseball on TV. At the Racquet Club the staff were all at the bar watching the game. I made the mistake of ordering fries. Worst fries in the history of earth. Serves me right for interrupting the game.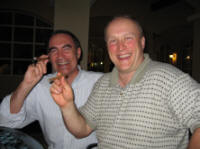 Oh, forgot to mention, back at the pool, I finished a book. A Croatia by Ivo Goldstein. A history book, non fiction. Read half of it last year in Punta Cana, so I had time to finish it this year in Cuba. Not bad, done in less than 12 months.
That evening we were off with Jim and Angela to the Japanese. Boy was it good. Lisa by now was back on solid food and enjoyed it herself (except the Sushi). We ended the evening at the cigar bar where Jim smoked a big sucker and I smoked a small mild girlie cigar, or one might call a cigarello?

Tue: Day 05: 31C - NO CLOUDS IN SIGHT
Breakfast at the hill top with Jim and Angela. Hung around the pool for a while, and then Jim and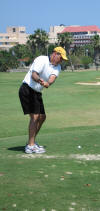 Lisa and I were off for a round of golf (included) (i.e. the green fees of around $50CDN). The total cost for the game was $10 for cab, $30 for a cart, and $30 each for Lisa and I for rental clubs. Clubs were great. Calloway irons and Taylor Made woods. Unfortunately the driver was not stiff but regular whip, i.e. I was not going to get full control over it.

The course met and exceeded our expectations. Although dry, it played nicely. Hot as hell as we had a 1pm tee time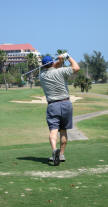 . Why? No one else was playing so we had the course to ourselves. No one behind us, and only when we reached the 18 tee did we see a group on the 18th green.
Lisa shot a career round score of 95, first time to break 100. I shot a 91 (due to peeling 5 off the tee - remember - driver not stiff enough). Jim was the winner in at 88. Said his handicap was 5 or 6 strokes higher than mine at around 17. Sandbagger? The view from the course especially on 17 and 1
8 was unreal, the ocean to our left, the water a turquoise blue. Oh, if you intend on playing down here, bring your own balls, they are $19CDN for 3 noodles. I found this out after Jim bought 3. We could have given him 2 of ours since that was all he needed. He did put one in the water. Hit a drive too far on a hole that required a lay up. Tough luck.
Back at the ranch we needed a swim in the cool pool to cool off. We settled for the heated pool. And it actually did cool us off. French cuisine tonight, the four of us. I had salmon (no duck here so I was on my 2nd salmon). Tonight was a drinking night for me. Since we got back from golf, I have a few drinks... red wine, followed by a screw driver, a cognac, a coco loco, a beer, a chi chi, 2 cappuccinos with Bailey's, another glass of wine and topped that all off with a final screw driver. Good night!

Wed: Day 06: 31C - NO CLOUDS IN SIGHT
We were on our own for most of the day. Jim and Angela (and Kim and Allen) were off to Havana. We were too lazy and the 2 hour ride each way did not excite us.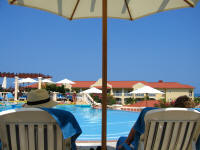 Next time. Toweled our chairs at 0800 and then off to the gym for 4 and 3 (spinning and jogging). We decided to try breakfast at the buffet again. Not bad. It seemed to get better with each visit. Back at the pool there were strangers to mingle and drink with and all in all a good day.

I rediscovered oil and balsamic vinegar in a dish, and bread to dip. Once I explained this to the hill top staff, they offered and delivered it to me thereafter whenever I wished. Once again I closed the pool around 1900.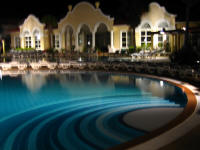 We met Angela and Jim for dinner at the hill top. I had the salmon. Not that there wasn't anything else. Many a time did I have the lobster and tenderloin or whatever it was - meat. And shrimp cocktail to start I need not mention. At the square they had entertainment, several young and strong acrobats. One of the events was to have them stand 3 tall, i.e. one on top of the other, on each one's shoulder - and then they hoisted a girl on the very top. Four high, only concrete below them. They were impressive. We were the nervous ones. Afraid they may be eating cement. Tonight Cuba beat Puerto Rico 4-3. Bravo. You could here happy yahoo-ing all over the resort.

Thu: Day 07: 31C - NO CLOUDS IN SIGHT
Up for chairs at 0730 today, noobs in town and wanted to get my favorite spot. Gym at 0800 for 3k spin and 2k run. Thought about sailing today, but no wind! Spent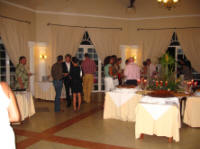 most of the day at the pool (yes) the heated pool.
In the evening, we went to the manager's reception which was a stand up buffet themed "Tastes of the World". Yummy, everything from shrimp to meat to caviar to hand made chocolates to oysters to spring rolls to lobster to - well just about everything. I even ate some stuff that I didn't know what it was, but it was good. And it all went down great with red wine.
Entertainment pre dining was a string quartet, post dining we were entertained to some syncronized swimming in the heated pool; and finally in the lounge some great music by 2 pianists, a vocalist and a kick-ass alto sax player.

After breakfast, Jim and Angela and I headed for the hobie cats - yes the catamaran. The sea was

delectable. Spent the rest of the day in the pool. Angela dunked me twice while I was on my floaty. She says it was getting even for the dunk I handed her earlier in the week - but I don't understand why because that dunk was Jim approved. Today, Jim and Angela left us. We were a bit sad.

Lisa and I and Andrew and Katia (also from Halifax) discovered that there is a daily tea party in the mid afternoon in the adjoining gazebo. So off we went. Tea and pastries and a solo violinist. Very nice. We were t

he last at the pool and the only ones to the party. Andrew is a city councillor here in Halifax so we talked a bit of politics. When we returned (a mere 5 yard walk) to our loungers, my towel was gone. Not my iPod or camera - just my towel. Someone going home and didn't want to be out the $25. They should have taken the other stuff and bought a bunch of towels. To say I was annoyed was an understatement. But just annoyed, after all we were in paradise. After a chat with the concierge desk, and after they launched an investigation, next morning, I was provided a replacement towel gratis.
But Jim, why did you take my towel, and just after I felt bad because I forgot to give you the Halifax ball cap.
Tonight was Italian, it was very good, I had the salmon.

Like I said, got my towel this morning and all was back to normal. Went again to the

g

ym for a mere 5k run, finished with some more than light stretching and back to the room to ice the tendons because of the asinine stretching.

Lisa and I did the catamaran this afternoon, I really appreciated the company, she also had a great time. I was the captain of course, she was the first officer.

At the pool today I found my drink. Each trip I find a drink I like, then OD on it. This one was pure and simple. Hand squeezed grapefruit juice and vodka. Yenni and Jose from this point on knew this was my drink and did a hell of a job walking up to the kitchen and doing some squeezing.

Guess what, we (I'm corrected as I type) - I went to sleep at 2000. What's up with that?

Sun: Day 10: 31C - NO CLOUDS IN SIGHT
Slept in (since we went to bed so "late" last night). Today started with a long walk on the beach heading west (the direction of Varadero). Near where we turned around, we could see a new resort under construction. Bought a conch from a vendor on the beach. I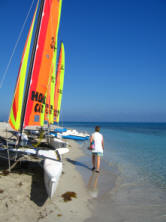 wasn't in the mood to negotiate. I told Lisa as we approached him on the way back that I was willing to part with 4 pesos. He asked for $10 by drawing a 10 in the sand, I signaled 4, he asked his buddy, buddy said yes. Offer, acceptance and consideration. And being of sound mind (me), a contract was let.
After brunch at the buffet, I bought a CD in the store called Cha Cha Cha. All the songs were Cha Cha Cha. Very nice. Back at the pool (yes the heated pool) (only heated pool in Cuba) I suggested to Yenni that she could stop calling me "sir". Then I asked her for a couple of shrimp cocktails and a vodka and GF. Lisa didn't want her shrimp cocktail so I ate it.
We had dinner at the hill top around 8pm. I had the salmon (after a shrimp cocktail). By now the scale back at the room was showing me up 3kg, i.e. 6.6 pounds. Well I wasn't happy about that after just loosing 38 pounds before leaving for the trip, but my budget was to not gain more than 10 in 2 weeks and that it all had to be back off within 2 weeks of my return. After that 22 more pounds before summer. After dinner I suggested we try and stay out later than 10pm, that we go bar hopping. Usually my younger wife would say yes and outlast me.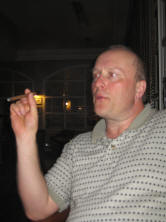 As you will see, not tonight.
After finishing the bottle of red for dinner, we went to the lobby bar for a cappuccino and Bailey's. The plan was to hit each bar for one drink. Cigar bar was next. Of course, when in Rome... I had another girly cigar. Lisa decided it important to make fun of the fact I only smoked 1/2 of the last one, so I smoke the whole thing. Right down to the end. My lips and tongue were burning. While this was going on we had our drink. Lisa got sick from the cigar smoke. HA. The smoker got sick from the smoke while the nonsmoker (allegedly allergic to smoke) did not. Next to the piano bar. I had a drink and Lisa had water. The plan then was to go to the racket club, then Port Royal, the the Rock House and home. But Lisa was tired an not feeling well. The young lass could not keep up with big daddy.

Mon: Day 11: 31C - NO CLOUDS IN SIGHT
Woke up, got on scale, skipped breakfast.

Met a new couple today from Toronto. Dan and Neisha. S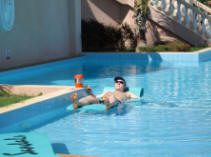 pent most of the day at the pool, had several shrimp cocktail, Lisa didn't want any of the ones I ordered her - found out she doesn't like shrimp. Go figure. Right Bill? Another tea party, some violin music, a long swim in the pool. Cancelled Japanese since we had been there done that and decided we'd go to the Chinese - no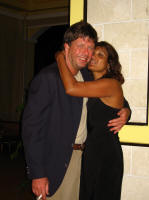 reservation required. Oh Jim, you missed a young topless babe at the pool. Topless for most of the day. I forgot to get you a photo. Oh, I brought big Bubba back out today. Click on the photo above to see it up close.
Dinner at the Bamboo was better than what others told us it would be. We liked it all except Lisa's sweet and sour pork - it was missing the sweet. Tonight was the big game, Cuba vs. Japan for all the marbles. The lobby bar was crowded, they were setting up a projection screen. Figuring all bars would be crowded with people gathering around the TVs, we headed home to watch it in the comfort of our room. Yes we are no fun. Ordered room service. Shrimp cocktails of course. Cuba lost.

Tue: Day 12: 31C - NO CLOUDS IN SIGHT
Slept in, then to the hill top to eat breakfast alone (again). We were golfing today at 1pm. Jim the following is for you.

#1 - long, pulled to right, punched a 4i (photo at right) into fairway, 5i to pin, missed the birdie putt by inches.
#2 - Just after getting rid of 2 people trying to sell us balls, the best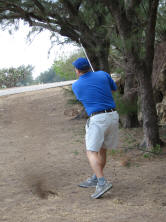 deal being 10 for 15 pesos, and me telling them we don't need balls, Lisa yanks 2 in a row off the tee into the woods to the left. Me, low drive, flubbed an easy 9i into a greenside bunker, not to pretty coming out and onto the green, but the 40 foot putt for par was good!
#3 - Par 3, tee shot greenside bunker, thought I'd try a tip I read at the pool yesterday. Worked. Then 3 putts to get it in (only 3 putt of the day).
#4 - Big drive, par 5. Second shot pin hi in the greenside bunker. Tried the tip again. Not going to use that technique anymore. Two to get out, 2 putt, boggy. Not acceptable!
#5 - My memory is fading, I remember an 80 foot putt that did not drop. Bogey.
#6 - Ah who am I kidding, you won't want to read all this. #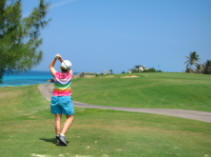 7. #8. #9. 43 on the front. I had such potential today. 43 wasn't too bad.
On the back Lisa and I both took the left approach to that hole that had a lower left and upper right fairway. Not by choice. Bogey. I hit over the green into a bunker. Who knew what club to hit?
Remember the hole that required 3 shots over water, but you had to select the proper club because it couldn't be swing with all you got. The one where you swung with all you had and dropped it into the pond. Again, off the tee perfectly with a 4i. I was up 15 yards from the water's edge. Brilliant. Then flopped a 6i into the water - must have been a defective 6i. Then dropped at water's edge. Oops, defective 7i. Got the next one over. More water to go over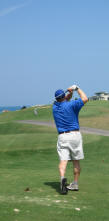 next shot. No sweat - over beautifully - I think it skipped 3 times going across. Now I needed a mere 90 yard SW to the green. Didn't trust the yardage, the SW or me. And the SW is usually my favorite weapon. Greenside bunker. Suffice to say 10 is not a bad score after all the stuff I did on that hole.
#18 - Perfect drive into the wind to the 100 marker. Then Lisa hit. Then I thought I'd hit from her tee (no one was looking) (photos not allowed during this swing). The tee was a good 50 yards closer than the men's. Down the middle perfect, 50 yards past my first one. Missed the birdie putt.
Total round of 88. Not bad considering I had a 10, and a couple of fiasco's getting out of bunkers.
Anyway, back to the pool to cool off and a few drinks. 2 vodkas and GF, 3 shrimp cocktails. Yummy as usual. Dinner at the buffet. Wow, they had calamari tonight.
Wed: Day 13: 31C - NO CLOUDS IN SIGHT
Late breakfast, then off to the beach for some snorkeling. No waves, no wind - and no shade huts a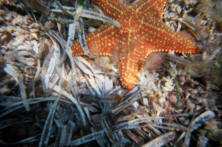 vailable. The beach guy set our loungers up near the water in the full sun where Lisa could read and keep her eye on me. I was in the water for over an hour. What a blast. I spent the whole hour in water no more than 12 feet deep, floating, watching some small fish, then diving down to try and get a picture. I'm starting to like this snorkeling thing. In the past I'd have a life jacket and worried about getting tired. But you don't get tired just floating. During this, beach volleyball was in session, Canada vs. Europe. I was having too much fun in the water.
On our way back, Lisa decided to hang out at the main pool. I wanted the heated pool. The snooty pool. At the pool I had a small snack of 3 shrimp cocktails. Now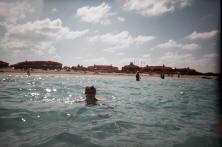 I guess I should explain how this is not a lot of food. Each one came in a dish with 3 shrimp on a bed of either lettuce or cabbage surrounded by either tomatoes or cucumbers. So 9 shrimp and a salad. And shrimp is the leanest protein one can eat. It is good for you. I spent some time talking with Yenni, including explaining curling.
Then, a guy walks over to get a drink. I say "Dave". He doesn't even look. Later on he comes back for another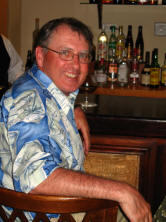 drink. I say "Dave". Again he doesn't look. So I say "excuse me, is your name Dave?" He says "No". I say "Are you sure?" He was. Anyway Dave and Darlene, oops I mean Evan were from Cold Lake (so they loved the heated pool). He looked just like my driving school instructor (who now after I told the story to, signs his name Evan). I asked Evan (the guy I thought was Dave), do you have a sports car, since Dave does, he said yes, I said a Z3 girlie car like Dave, he said no a vette. He asked if Dave was good looking. I cannot comment on such a question, not an expert, have no experience judging how men look - not that there is anything wrong with that. They arrived last Friday (same day Jim and Angela left) -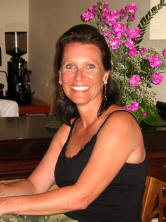 hey I should have asked Evan if he took my towel! But we hadn't seen them since they were all over the place. Beach, main pool, etc. This was what I was looking for, someone to replace Jim and Angela, and so we agreed to meet at the hill top bar after dinner. Lisa and I were eating at the French again. At the French I had an amuse bouche to die for - mussels. The music was superb. We bought their CD. Same violin player that serenades us at the tea parties.
This night we stayed up and closed a few bars drinking with Evan and Darlene, Len and Carol, Jack and Nancy (from Norwood ON east of Toronto). And Dan and Neisha also met up with us for a few minutes. To our shock and surprise, we made it to 3AM.

Thu: Day 14: 31C - NO CLOUDS IN SIGHT
I took some abuse at the pool one day when I bragged about finishing the book I started in Punta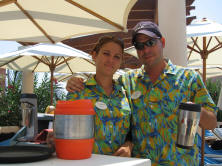 Cana, so for the record, here was my reading list this trip.

A Croatia (2nd half), Canadian Business 2005/2006 annual, The National Enquirer March 06, PC World March 06 (how can you do any traveling without reading something to do with computers), The Balkans (I started half way thru to ensure I made it to the end - and I did), Entertainment Weekly April 06, Golf magazine March 06 (great except the bunker tip), Glamour April 06 (kind of bathroom reading) (excellent tips on how to keep your skin looking young and feeling moist). I was also ready to next start reading Croatia - a Nation Forced in War, but who was I kidding, it was thick and there were only 3 days remaining. I'll save it for next year. It will just be that much better.

Spent an hour of my last day here at the spa - went for a massage.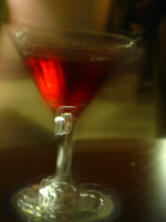 Excellent. I needed that. All that lying around doing nothing can be hard on the body. And in the latter part of the day as we left the pool, we left a few things for our great bartenders. I gave Jose the big bubba, he was very happy. Went to the lobby for some shopping. Got some T-shirts for my brother Paul's kids, another music CD/DVD for me. Passed on a percussion instrument (drum).
Tonight was manager's reception again - every Thursday. It was great as was the first one. Spoke to Oscar the general manager, complimented him on his resort and got his card so that when we return next year, I can get all of us exactly the rooms we would like. Building, floor, etc.

Fri: Day 15: 30C - CLOUDS, Tarmac at the airport was wet.
Skipped breakfast again (yep got on the scale again). Cloudy out. Said our goodbyes, got whisked to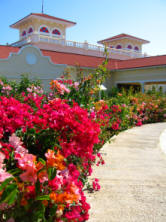 the front lobby - actually our luggage did, we decided to walk the 200 yards. Cab arrived to take us away. This cab driver was weird. When we got to the airport road, he pulls over, two big buses pass us by, he gets out to run back and talk to a couple of buddies, all without saying anything. Did I mention 2 buses full of people are now ahead of us? He comes back, gets in, we are off again. An oncoming cab approaches. He stops. he gets out again. They chat. I'm thinking is the cab going to blow or is an unmarked van going to stop and kidnap us. Seriously? No. But I was getting pissed.

At the airport, we get to the Air Canada line and we are 100th in line of a line of 100. BP was 160/90. I remember our AC rep at the resort telling us of the VIP lounge and the perks. $25CDN each. We never did buy access to it. So I asked Lisa to find an AC rep and pay it. She did. We were then asked to change lines and presto, 3rd in line. We were going to ask if there were any 1st class seats left, but the young man said no. We checked in. Our next task was to get in a line of 30 to pay the departure tax, but, as a VIP customer, we paid him, he went to the desk, then behind it, and paid it for us. Next the passport control. All the lines had 10 or so in line except row 1. Which is where we went. Suffice to say within 15 minutes of forking out $50 we were walking thru the metal detectors (while #99 in line was probably now #88 in line) and into the VIP lounge. Air conditioned, puffy leather chairs. We sat down. We were presented with a plate of cold cuts. Can't eat without drinks, so we had cappuccinos with Bailey's. And some banana chips etc. All free!!! Well $50. Well worth it. When it was time to leave, we went up stairs and onto the plane. The tarmac was wet. It had rained here while we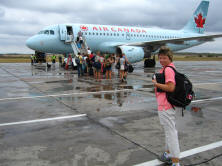 were in the lounge.
Once on the plane I noticed four empty 1st class seats. Buddy was wrong. We asked to upgrade, No can do once you are on the plane. Oh well, saved $100+ and as luck would have it there was one other empty seat on the plane, the one right of Lisa so we had the side, 3 seats. Just as good. Movie was The Family Stone - sucked. 3 and 1/2 hour flight home. Flew over an array of windmills around Yarmouth. Temperature in Cuba 30C, at home 5C. Either way, shirt weather.
What a vacation. What great people we met especially Jim and Angela whom we spent a lot of time with. Jim, come on down so we can play a round of golf - it's on me.