Quick links:
HOME | 01 - Split | 06 - Split/Sail | 10 - Sail... Mljet | 14 - Dubrovnik cont'd | 18 - France | 21 - Cycling | 25 - Cycling cont'd | 29 - Villa cont'd | 32 - The Rest
Day 01 - Monday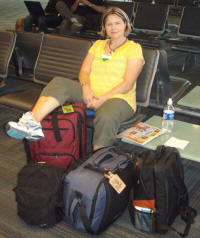 1500 ADT - Sitting on US soil at Halifax International airport, on our way to Germany via Boston. No checked luggage. One large bag each (legal size) and a personal carry on (my cameras and laptop, very heavy) - all the stuff I think I will need for 5 weeks. The experiment begins.

1800 EDT - In Lufthansa 1st class lounge, eating "ginormous" shrimp cocktail. While on the shuttle between terminals we experienced a rude driver who yelled at a passenger for asking about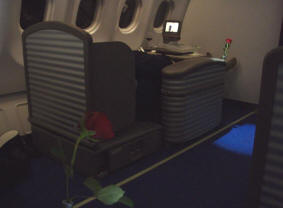 the stop we were about to leave, in effect saying, "listen to the announcements, they are loud enough" after which the young man replied "Dude, no need to be obnoxious". In the airport, Lisa (my travel agent, she's so good) had the agent hook us up with boarding passes for Munich - Split. We are good to go. Carrying the extra bags - a bit of a drag; knowing you have everything in eye sight and not on its way to Chicago - priceless.

The flight was fantastic. Only eight in first class, 1-2-1 and 1-2-1. The seats were beds! When fully horizontal, I could not touch the seat in front nor the wall behind. We've been in Business Class etc before, but this was first class, something totally different. We were given a menu to look over while I was working the screwdrivers, to order a six course meal. Appetizer (some kind of tasty seafood), then I had the caviar with chopped onions and chopped egg yokes and whites, salad, peppercorn duck (look out daffy and friends, I'm still over Newfoundland and my duck c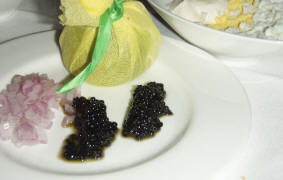 ount is already 1). While this was going on, the red wine was a-pourin'. Then a sumptuous berry and ice cream dessert, followed as they do so well in Europe, by the cheese course, and then finished off with a cup of tea. Then we were given our kits. Pyjama tops and bottoms (they had my size)(muscular), slippers, socks, and everything else from shoe horn to clippers etc. - everything one packs before they leave. Lufthansa is pretty pretty good!



Day 02 - Tuesday

Still on the plane, I watched "What Happens in Vegas", (Cameron Diaz is hot, ouch) and off to bed for a hour or more. Only to be awakened with more food, continental breakfast. Oh well.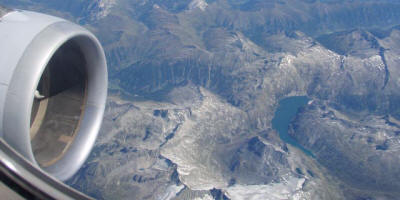 0900 CEDT - which will be the time for our whole trip, whether in Croatia or France. Here we sit in Munich, 30 minutes early, and an hour to wait before we head to Split. The sky is bright, sunny, and blue. Ends up we wait an additional hour since some fool did not show up at the gate for the flight and so the luggage had to be removed. We flew over mountains on one side, and could see the Adriatic on the other. In Split, we were met at the airport by a young man with a sign that read "Lisa", who drove us to our apartment where we arrived around 1330. Here we were greeted by Slatko who owns the apartment. After that, we both crashed!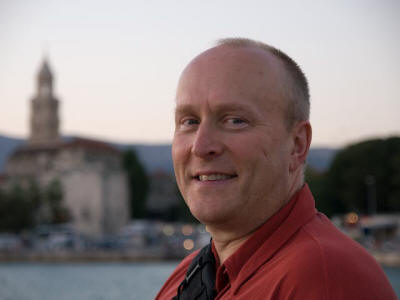 Very very tired.

1800 - Awoke from our naps and went for a wander. Down along the beach, many people, couples, families, young and old swimming (it's 31 and hot, and it's been so for the past 2 weeks here). We stopped around the wharf where the various large car and passenger ferries dock, just short of the old city, the Diocletian Palace (more on that we we get there). Bank machined, turned around, got some groceries, then off to a restaurant on the beach (outdoors amongst very large tall tress) called the Šumica (Šuma, pronounced Shoo'-ma) is "woods" in Hrvatski. Very nice, very warm, no bugs. We had salads (radič), a meat plate with veal and lamb kabob and chicken and two types of sausages and mom's greasy potatoes (and ice cream for dessert). Way too much food. That and a bottle of wine... 209 Kuna plus 25% tax plus tip for a total of 300 Kuna or $60 - wow. The wine was from Bosnia-Herzegovina and called Vranac. Fruity, light bodied, not much structured, easy to drink and very tasty. I did fairly well at the grocery store and dinner ordering and speaking Hrvatski. I apologized to both for my poor "english" but they said it was just fine. Pictures to follow very soon as quickly as I can get a good safe connection on this laptop...


Day 03 - Wednesday

We explored today, walked for about 4 to 5 hours, downtown, around the Diocletian Palace (UNESCO heritage site) and beyond. Stopped several times, for a pivo (pee'-vo) (beer) (10 Kuna each ($2CDN), pizza (35 Kuna each) (my first choice was tripe but they were already out of it for the day - darn), and terrific lemon ice cream. I love the whipped sherbet style of ice cream over here, I remember it from my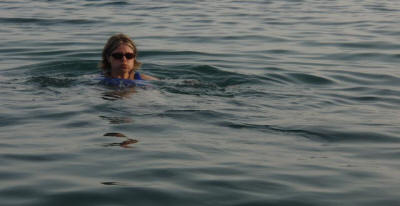 trip to Jugoslavia 40 years ago. It was hot. At least 33C.

The view, the vista from the other side of town looking at the palace, postcard like. Water in the foreground, then the palace, and the mountains in the background. I hope some of my photos do it justice.

When we returned home, we go on our suits and took a 5 minute walk down to the shore for a swim. Cool at first, but once you're in, wow. The beaches here (and in southern France) are not like Cuba or back home. Many are rock beaches, small pebbles in stead of sand. And in the water were softball and larger sized stones. Really cooled us off. Returned to the apartment, cool and feeling good. Lisa is reading, drinking wine, I am typing, drinking Coke Zero. It is 730pm and dusk, almost dark.

Dinner at Boban tonight, 500 freakin' Kuna. Actually, when you break it down, very reasonable. Nice wine from the island of Hvar, Lisa had fillet mignon in truffle sauce, and I had the best calamari (local catch) that I've ever had. I had with plead the waiter to bring me ketchup, he said "ne moj". Couldn't decide between cucumber or cabbage salad so I had 50/50, in oil and vinegar, just like my mom makes it. What a night, as we walk home near midnight, it must still be over 20 if not 25C.


Diocletian Palace, Split
Day 04 - Thursday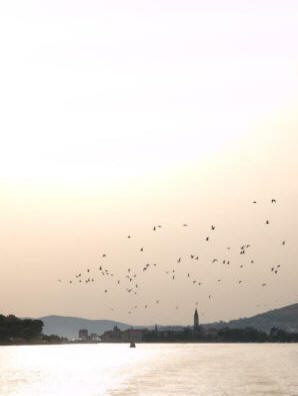 Today we went by 30 minute bus ride north to the UNESCO heritage site of Trogir. An island the size on SMU campus, maybe larger. What history, walking thru the winding narrow streets (no cars on this island), sometimes ending up in a dead end for (but not the people that live there). Around 3pm, kids started taking over a certain area, they were playing, running, kicking a box around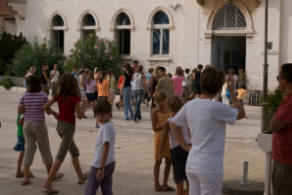 playing football. It was a very cool site. But where did they come from. From the school on the island. This is not just a tourist site, people live and learn and sleep and - this is their life. You could just imagine what it would have felt like in between and during the world wars and even back hundreds and hundreds of years.

The ducks are still safe, the squid, not having much of a time with me. The calamari here is so good, and so fresh. YUMMY.

We returned to Split and hung out on the Riva (near the palace) waiting to meet my brother Wayne and my sister(in-law) Linda who arrived in Zagreb today and were driving down to meet us. We met, went back to the apartment and had a few drinks, they need their sleep, and as early risers will be waking us up early tomorrow, and we need that.

Day 05 - Friday

Today, up early to return Wayne's rental car, then off for breakfast outside the Palace. After breakfast, we toured the Palace and climbed the bell tower. Lisa decided to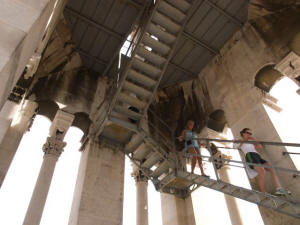 quit 1/3 of the way up. It was a bit unnerving. After the descent, we prowled the market. Bought some nuts in the market, almonds, filberts, pistachios and cranberries (I know not a nut), bags of each for 80 Kuna.

As we walked along the waterfront going home, Wayne and I bought Croatia football jerseys, I got the home checkered white and he got the away really nice blue. We then stopped for a Karova

č

ka (beer). While the three girls finished off their beers, I got an ice cream (limun) (actually two), YUMMY and refreshing. We walked home along the water/beach route, very hot, many were swimming. So after a quick stop for groceries, a short rest we were on our way out for another walk downtown.

We traversed much of the same ground, have coffees, ice cream (I only had one this time - but asked for 3 scoops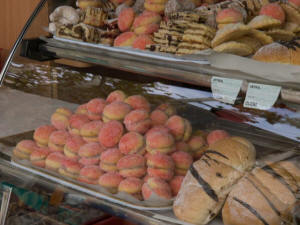 instead of the defaulted 1), found an away Jersey for me, and walked back along a slightly different route. Then we went to the beach for a quick dip and cooling off. Took Nevenko 15 minutes to brave the cool water. The air being around 30C+ and the water only maybe 25, it was cold! Yeah!

After drinks and nibblies, we headed for dinner along the water, calamari, salad (cukes, tomatoes, cabbage, corn and radič), pizza, and an Italian dish for Lisa, of course with Pevo (and dessert), the total was 350 Kuna or $80CDN for four, unbelievable. Anyway, a long and busy day.

Tomorrow, phase one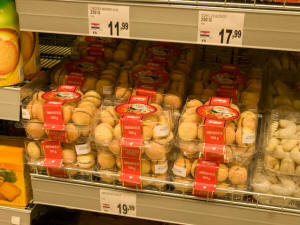 (I'll call it) of the journey ends, as we leave this apartment for a week abort the sailing ship. It may be hard to post while aboard as we will be busier and there will probably not be internet connectivity. So check back in a week or so.

Our vacation so far has been odli

č

an, so until then dovi

đ

enja.

Oh, by the way, we now know how to order "tap" water and not get mineral water or bottled water and thus charged for it. We ask for obi

č

na voda. Such a subtle difference between odli

č

an and obi

čan

.

Also by the way mom, we are finding your food here everywhere. Desserts in grocery stores, the rum cookies, etc and the salads and tripe in restaurants. It's like I am home! And loving it.


Quick links:
HOME | 01 - Split | 06 - Split/Sail | 10 - Sail... Mljet | 14 - Dubrovnik cont'd | 18 - France | 21 - Cycling | 25 - Cycling cont'd | 29 - Villa cont'd | 32 - The Rest