Quick links:
HOME | 01 - Split | 06 - Split/Sail | 10 - Sail... Mljet | 14 - Dubrovnik cont'd | 18 - France | 21 - Cycling | 25 - Cycling cont'd | 29 - Villa cont'd | 32 - The Rest
Day 18 - Thursday - Moving Day to France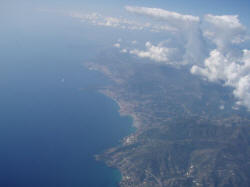 Travel day, up at 0530, check out and cab to airport. It is going to rain here for a few days with temperatures into the mid teens for highs. The Zagreb airport I am sure is exactly the way it was in 1968. You get to and from planes by bus, there are not direct ramps to the planes. We were at gate 19. That was also the smoking section. Got me all stuffed up and I am sure stinked up. The plane was 40 minutes late taking off to Vienna on Austrian Arrow, where we would transfer to a flight to Nice, again on Austrian Arrow.

A note about the flight attendants. They were stunning. They wore bright but tasteful red outfits, the girls were gorgeous. It was actually Lisa that pointed these things out to me; otherwise, I may not have noticed.

Our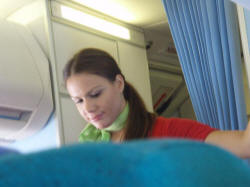 contingency time was 90 minutes. We had just chewed up nearly half of it. Being in business class, they served a small breakfast, pleasant, but a tad rushed even for a fast eater like me. The flight time was a mere 40 minutes. Then we had to circle the airport an extra 10 minutes to await a landing slot. More contingency time spent. Then it was the bus thing again. I have been on more buses in the past couple of weeks than I have been the last couple of years, or even decades. So onto a bus we got.

Did I mention the girls. No not just the Austrian flight attendants. The Croatian ones were very cute as well. But not just them. All the girls here near twenty and well up over thirty walk around looking chic, dressed to the nines, I was going to say looking like New Yorkers or big American city ladies. But, they look better. They dress better. The are more chic. I think it is the Americans and Canadians trying to copy the Europeans. Anyway, I digress.

Off the bus and into the airport we look for someone to help us. We have twenty minutes to get to the next gate. We find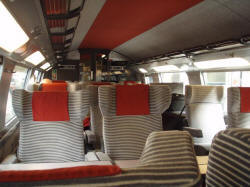 out we need to clear customs, then head for our gate. So we get in line. Tick tick tick... The we are off running through the airport. Ever see the Amazing Race. The only thing missing was the camera crew. We find our gate. Ah, but we need to go back through security. To speed up the process, I leave my laptop in my carryon. Didn't work, I have to go back through and this time take it out. Tick tick tick... The can't leave without us, especially since both flights were the same airline, so they should be "expecting" us. I think it lucky for us that we are doing carry on only. What if we had to claim baggage, then drop it back on a belt for loading.

Anyway, I am now on Austrian soil, the soil I was born on. It is stamped in my passport. Had I applied for an Austrian passport, I could have used the EU customs line, which is usually empty. But if then have to wait for Lisa anyway. All this time, I was needed a pit stop, had to pee. Lisa too. Do we stop, do we chance it? Nope.

We finally get to our gate. They are late. They weren't boarding yet. Calm came over me, and off to the WC I sped. When I returned, it was Lisa's turn - nope - boarding. Lisa decided to wait until after takeoff. Onto another bus and to the plane. I started to rain lightly, and the temperature was probably in the mid teens. This flight was less than 90 minutes with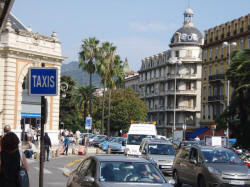 a warm meal served (yes in business class). When we landed in Nice, you guessed it, another bus to get us to the terminal. We were in no rush to customs since we have no luggage to wait for. At customs you just walk through. Then I got it, we cleared customs in Vienna, and we were still in the EU. Croatia is still waiting to be accepted, and they anticipate a year or so.

Out of the airport and towards a bus in the bus station. But which one, Lisa can't find the paper that has that info. I thought, my travel agent's first faux pas. But alas, nope, the info is also in her head. She is truly great. A short (too short) bus ride to the train station, down along the waterfront/beach. Boobs everywhere. The girls are all topless on the beach. Very distracting. I was trying to enjoy the view of the Mediterranean. Oh well, when in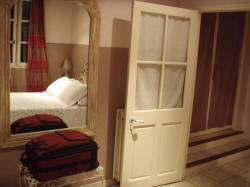 France... Did I mention the stewardesses?

The train station was not the greatest. We stood in line for some info for near 30 minutes. It is hot, sunny, got to bee mid twenties. Nice. Hope it lasts. We got our tickets. Lisa booked us online for top floor on a first class car, reserved seating in a car designated as quiet. Ie no cell phones. And here I sit typing today's blog. Didn't say no typing. And now the train is on its way. A three or so hour ride to Avignon where we will cab to our bed and breakfast. An eventful day. A travel day. I miss Croatia already, but I need to gear up for a week of cycling and a week of doing nothing.

"Lisa,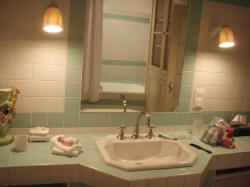 want to (proof) read my blog?" "Yes but not now."

As the TGV (high speed train gained speed), we travelled alongside the Mediterranean again. And again the view was spectacular. But we were going a bit too fast to really appreciate all the beauties.

The train ride was smooth, like clockwork. At 6:44 I asked Lisa when do we arrive in Avignon, and she replied 6:44. Well wanna see someone panic, I unplugged the laptop, told Windows to shutdown, and packed it away - but not before the train came to a stop. They are dead on time in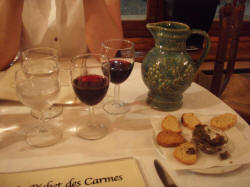 Europe. The conductor didn't give his usual advance notice of the upcoming stop. Amazing Race part deux. Get luggaage and get off the train before it takes off. Made it. Cabbed it to Avignon, the old town, the walled city. Wow, another marvel to explore.

We check in with our host Aida, saw our room, and set out for dinner. We were hungry. Now as you recall, duck one is over the Atlantic. Duck two was actually a goose, and to me a goose is just an expensive and better tasting duck. Tonight, it was duck three. The food was amazing. The ethnic home cooking I was eating in Croatia is now replaced with fine fine dining. Lisa had steak. The Tuscany salad was to die for. The cheese course we did not like, too forte.

I need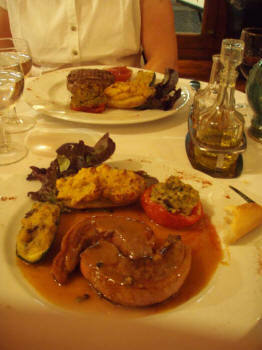 to back up a bit. Every since we arrived, I become the dependent one. Lisa relied on me for Croatian, now I had to reply on her French. Out of the gate in the cab she was yapping away, and with feeling and excitement. The restaurant waiter/owner spoke only French. So they had a great time. He was very helpful when she needed it. As was I. When he mentioned the size of the wine (75 ml), she spoke back with seventeen or something. I had to tell her how to say 75. Just like I taught her to count in Hrvaksi.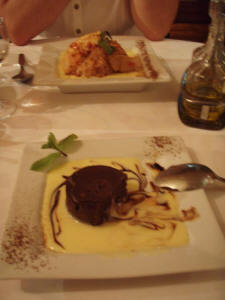 Anyway after our great meal, she inquired abut the ice cream. He say "non". He said that if you have a bad meal in an establishment, it is ok to order ice cream for dessert; but, if you have a great meal, order a real dessert. We did. And it was yummy. I then of course ordered a Coke Light, knowing full well he would mock me, and he did. And he got the last laugh 'cause it cost 3€. No more Coke for me! LOL. Anyway, a great travel day, look forward to exploring this city, the city of the second Papacy, tomorrow. And as you can see, our apartment has wireless. Au revoir.







Day 19 - Friday - Avignon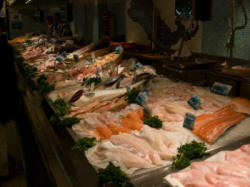 After a nice French breakfast, much bread and pastries, we were off to explore Avignon. Lisa already had it in her mind what she wanted to see, I not knowing anything of the town, decided to play along. As always, she does her homework, knows her history, and knows what we should go see.

First stop was a stroll through the market. Unlike the Croatia markets we visited, this one was an indoor market, and the variety of foods much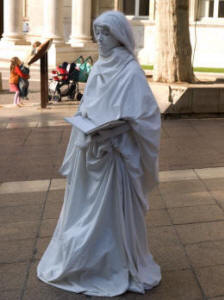 larger.

Second stop was the Palaise des Papes (The Pope's Palace). Pope Clement V took up residence in the early 14th century because at that time it was not safe for the pope to be in Rome. Political pressure and even an assassination attempt on Popes around that time made it better to be elsewhere. In the latter part of the century, 1378, the great schism resulted in the existence of two popes, both backed backed by different rulers. In 1417, after 7 schismatic Popes, Pope Martin V emerged as the one official Pope. So we toured the palace, and got a great grasp of the history listening to the audio headsets.

Our exploring then led us to Norte Dame Des Doms, a cathedral located next to the palace. Not a very large chruch by any means, but no less elaborate than the others we've seen. Multiple side alters, each depicting a historical account of Christ in life size statues.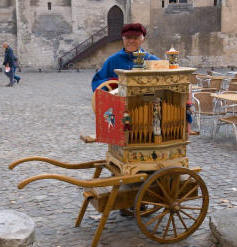 Lisa loves walking through these old churches, she is so interested in the history behind them. I told her that it didn't matter how many she visited, it did not make her catholic.

The final part of the tour was the Pont St. Benezet (usually known as the Pont d'Avignon). This took us through the gate of the walled town and placed us on the outside of the town. An old bridge that once crossed the Rhone river but now only goes half way. Originally built from wood by the Romans, and later rebuilt after who knows what, wars, floods, not sure. Google it.

Then we went to look for lunch. And by the time we found a place we thought we liked, no more lunch. Most places (the good places), stop serving food around 2pm and start up again for dinner. So we had pizza, salad and a stinky beer that I would not drink. Lisa ordered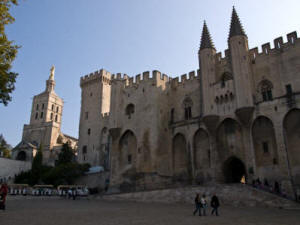 it for me and decided I needed a 1/2 litre, Linda size, when I drank .25 and .3 ml most of the time.

When we returned to the apartment, knowing the larger room was available today, we had Aida move our stuff across the hall to the more spacious room.

Since I have some time and space left, time for some of my astute observations. It cost a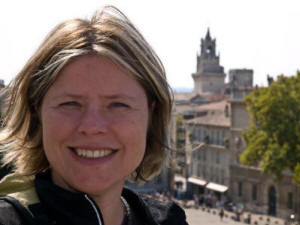 lot more in France than in Croatia to have lunch, or eat dinner, or even have an ice cream. Cost me 6€ for a triple scoop of lemon today, but it was sweet. Order beer in Croatia, and you get great cold beer. Skip the beer in France. Both countries find it necessary to on occasion charge you to have a pee. That pisses me off. Seems a European thing. We got rid of pay toilets in Canada in the 60's. There is probably as much meaningless, asinine, juvenile graffiti her in France as there is in Croatia. Shame. And in the corner store, behind the cash, below the pens, right of the
razor blades, you can buy shrink wrapped Gin. Chuckle! And if you read my observations of France and England in my 2005 bog, guess what, they still have better power 240V, but they haven't figured out sock sizes. Plugs are still larger than iPods. And so extension cords get ridiculous in size. Saw a splitter today in the store, to take one socket and double it. The size of a softball. One thing I did notice here, the European plugs now have a ground pole to the plug. The 2 holes from before remain, but now I see a ground pin jutting out from the wall.

The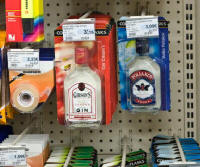 weather today was over 20C and clear. But after we returned from our excursion just after 5pm, it quickly got windy and it showered for a few minutes. Seems this time of year around here, it gets cool in the evenings, but day time temperatures still range in the 20's and higher.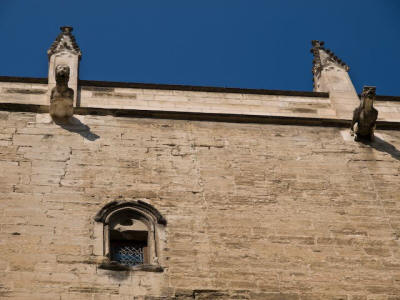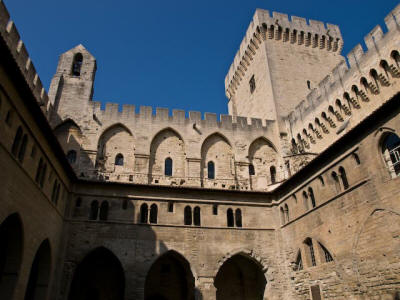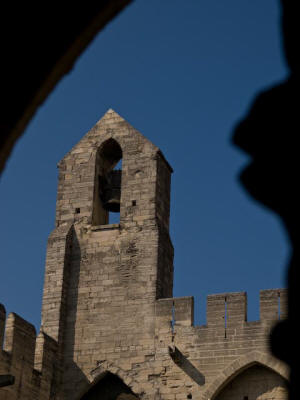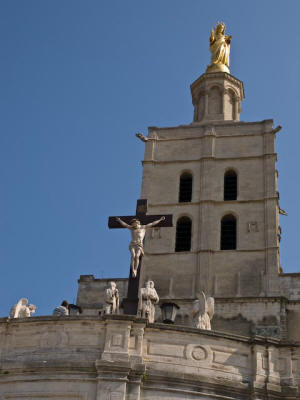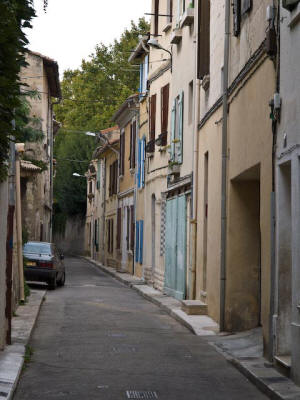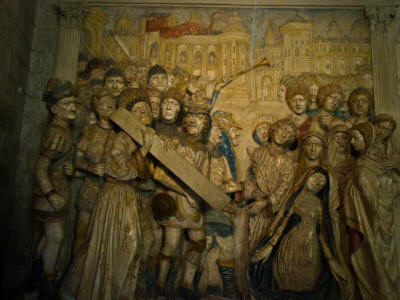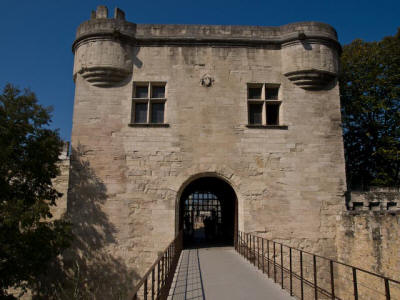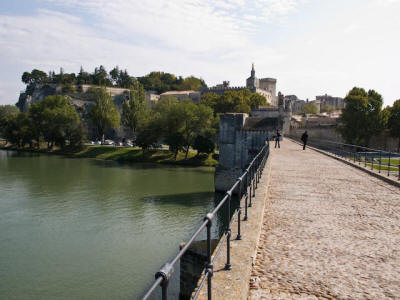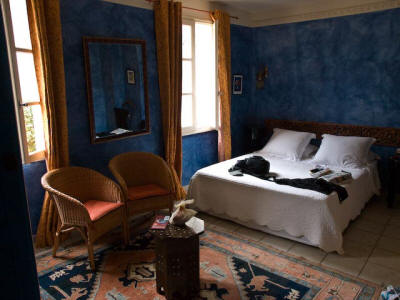 Went out to dinner tonight. Funny story, before our trip we were advised we needed specific boat shoes, non marking, not used on dirt and streets, etc. So we bought me a nice pair. On the boat, I went barefoot the whole time. The other option. The easier and smarter option. However, my boat shoes are both good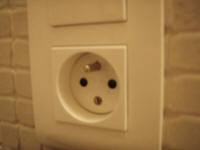 looking and comfortable. But somewhere between Halifax and - actually - Split and here, the right one has developed a "Squeak". Walking home from dinner tonight, we identified what it sounds like. "Quack". Not kidding. May be an omen? Anyway, the duck in the air (over the Atlantic) and the goose at my aunt's, I would argue count (as ducks). But let's forget those and just count the French ducks.

Dinner tonight. Sumptuous. Lisa have beef. I had the duck. So after day two, Geno 2, ducks 0.

Day 20 - Saturday - Avignon Day 2

After a nice breakfast, we were off. First destination Roucher des Doms.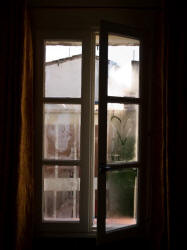 Lisa had directions, right. I knew where it was. Got her 20 meters from an entrance when she stopped me and said that you can't get in there. So we walked all the way back and around and up through the square adjoining the Pope's Palace. This took us by the Petit Palais (where the archbishop's used to live, now a museum). At this point we had to plan our attack, since the museum closes between 1 and 2pm. Yet, lunch time for the employees. Typical in France. So we continued up the stairs past it to the top of our original destination Roucher des Doms. Great view of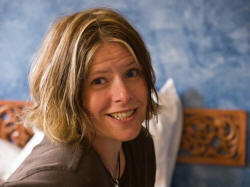 the city and river from up there. Also great view of dinner, see photo. As we walked around the duck pond, they looked very nervous, twitchy. Something was in the air.

From this high vantage point, we wound our way down to the wall, and then down the stairs into a small tower and then descending the winding stairs to - yep - the entrance I brought us to in the morning. Yep, 20 meters away I was when I was persuaded that we were not in the right place. LOL.

From here we walked through some commercial streets where there the vendors had brought their wares into the streets, the narrow, almost sidewalk less streets. Luckily some of the streets are pedestrian only.

As we continued to walk, a triple lemon ice cream, co-incidentally was calling me,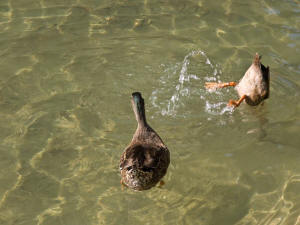 from the exact same vendor we got it from yesterday. As fate would have it, I stopped to partake. Yummy yummy yummy! More walking, more window shopping, we wound our way to another corner of the city where had not yet been, picked an outdoor cafe and stopped for lunch.

Next back to the museum which would now open. They would not allow us our backpacks and camera bags and so took them and stored them for us. As we walked through the exhibit, mostly ecclesiastical and of course Catholic, was impressive. As we went from salle to salle, their were employees monitoring them. I guess cameras in each rom is just not enough. In one room, this man yelled at Lisa pointing to black tape along the floor in front of the wall of paintings saying stay behind the line. Of the 23 or so salles in the place, only in this room, on this wall was there this taped line. A trap. Lisa fell into it. He followed us for a few rooms. I guess he was in charge for a few rooms. He annoyed me tremendously. Anyway, amazing relics and art from the thirteen century onwards.

Next stop the square, Place de L'Horloge, where there are many cafes and bars and the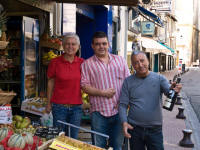 large carousel. We spent over an hour here, pleasantly watching the people, me with beer and Lisa with coffee. It was hot, mod twenties. A change from the morning when we woke up with condensation on the windows. As Aida said, the mornings and evenings are cool, but the afternoon will get warm.

Back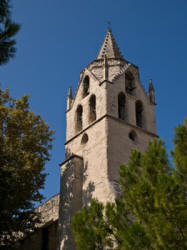 at the apartment we opened the box we mailed to ourselves from home, all the cycling equipment. Jerseys, shorts, pedals, computers etc. Removed them from the box, and filled the box with stuff we would not need for the next week. We'll leave the box here and return here in a week to get it once we get our rental car.

Dinner tonight, the evening was fairly warm. Duck. But the price of admission for me was the appetizer. Scallops and mushrooms in a bowl with a puff pastry top. The while thing looked like one big mushroom. By was it good. The wine, average. We are finding that |Croatia has much better wines, and the price is not the factor. We are paying double here for wine that cannot come close to what we had in Croatia. And the service in restaurants. Unless you are served by the owner, they do not seem to care here. Why should they, the tip is included in the prices.

Well, off to bed, we start cycling tomorrow.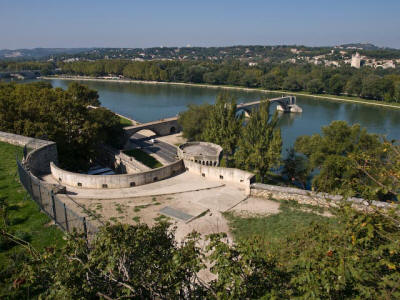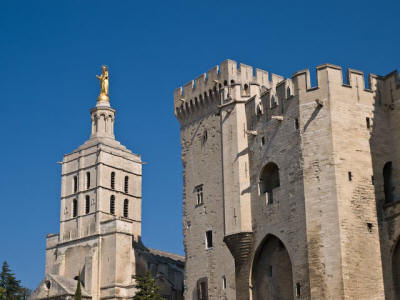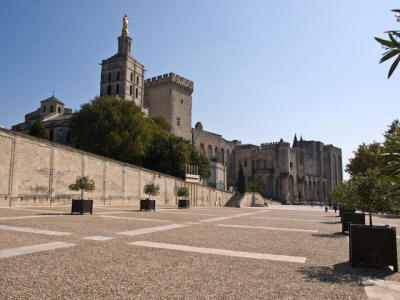 Go to Day 21
Quick links:
HOME | 01 - Split | 06 - Split/Sail | 10 - Sail... Mljet | 14 - Dubrovnik cont'd | 18 - France | 21 - Cycling | 25 - Cycling cont'd | 29 - Villa cont'd | 32 - The Rest