Quick links:
HOME | 01 - Split | 06 - Split/Sail | 10 - Sail... Mljet | 14 - Dubrovnik cont'd | 18 - France | 21 - Cycling | 25 - Cycling cont'd | 29 - Villa cont'd | 32 - The Rest

Day 25 - Thursday - Cycling - Day 05 - Around Mont Ventoux (1/2)

Today`s ride was sweet, as was the scenery and route we travelled. It was a bit chilly to start,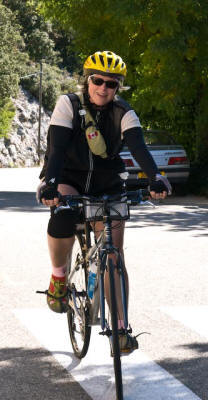 we were starting out at an elevation of over 800 meters. From the start, we descended, with long sleeves and wind breakers. There was a bit of wind. The temperature was around somewhere over 10C. As we descended at times going over 40 km/hr, our hands got a bit cold.

The route today had some descents, some decent climbs, and some rolling hills. My favourite. I am not a good climber. I'm not in shape to do serious climbing. I don't like climbing. The slow speed going up, the fast speed going down, etc. I like the rolling hills, which allows you to climb one crest from the momentum of descending the previous crest. Usually without downshifting, often standing on the pedals on that last bit of "up". And it allows me to travel a comfortable 30 km/hr for the most part. A sweet ride. Lisa was feeling a bit better today and she did great. She was even enjoying some of the climbs; maybe not at the foot of them, but definitely at the top of them. She even complained that on one descent, I was a bit too slow forcing her to brake excessively.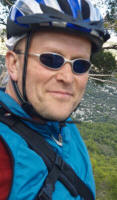 Yeah right!

We met up with Dan and Jen in in Malaucene for pizza, and then they tackled the Mont while we did a leisurely ride through B

é

doin where we stropped for coffee and a beer. Then to our new destination, yep, atop a hill, in Crillon-Le-Brave, stopping often for photo shoots. All day, as we cycled, Mont Ventoux was a beacon. Always visible as we cycled around it.

When we got to our room, in a separate building, housing two suites, one at ground level, and ours atop, we thought we died and went to heaven. What a room. On a cliff (again) overlooking a valley towards Mont Ventoux. We have 3 large windows facing the Mont, and each with a spectacular view.

Tonight we were on our own for dinner; but the five of us met up and went to the restaurant down the street, the only place to eat except the hotel, where we will dine tomorrow night. I had the foie gras, and so did Lisa, kind of. Had salmon, nicely prepared, and a couple of screw drivers, freely poured I am sure as triples. Still a bit buzzed.

Today's ride was 56 km for a total of 219 km.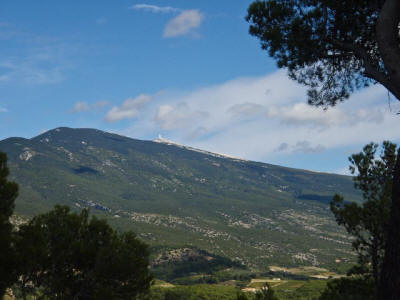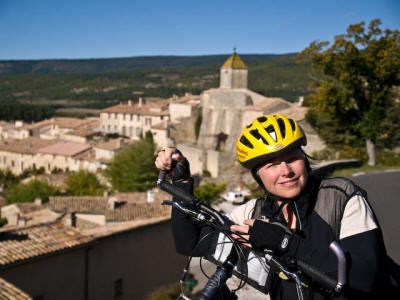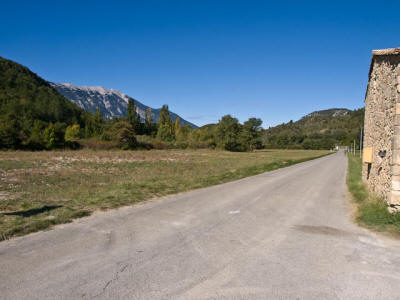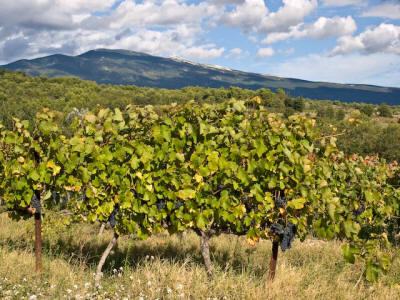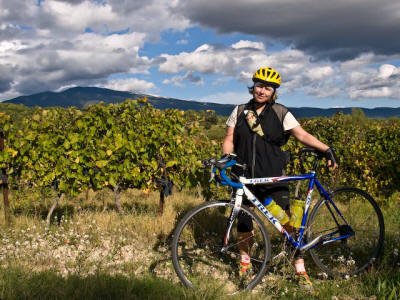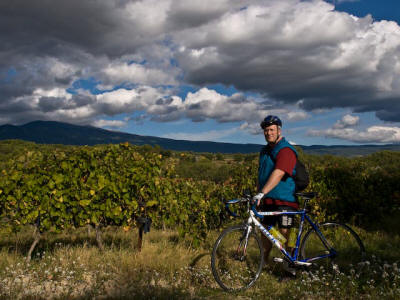 The room...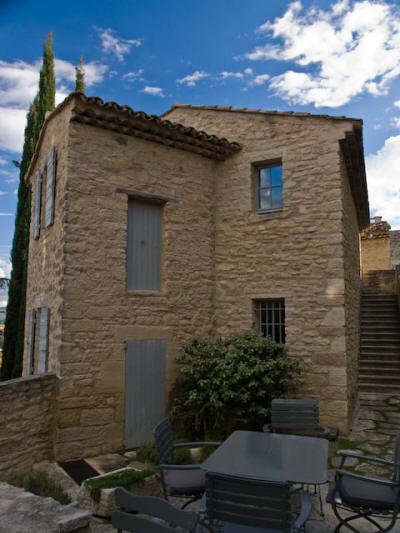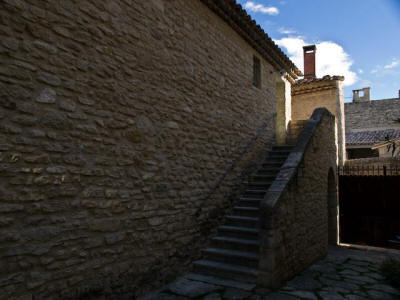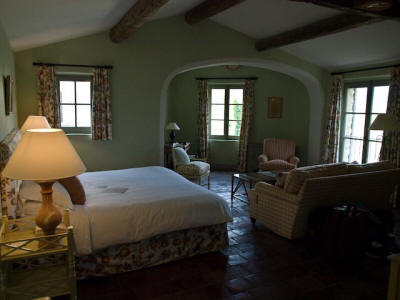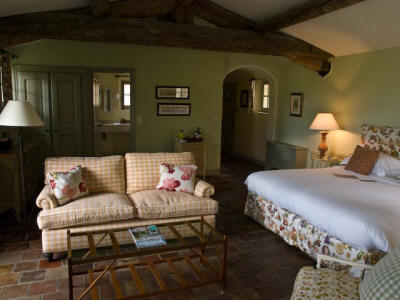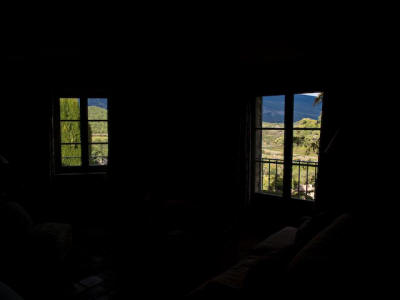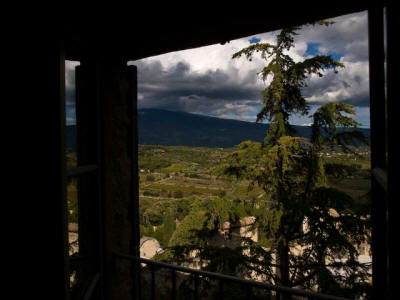 Views from the room of Mont Ventoux...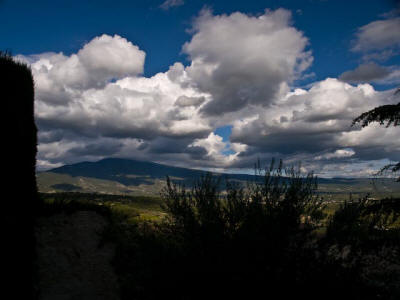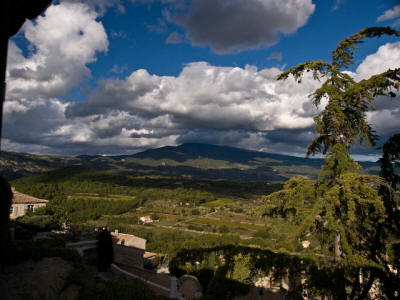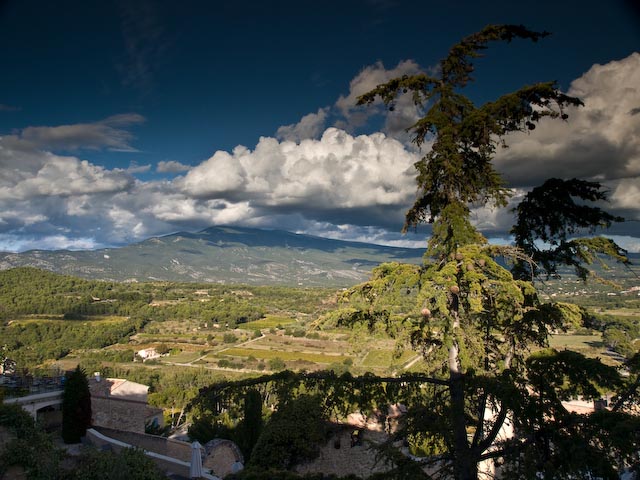 Day 26 - Friday - Cycling - Day 06- A visit to the top of Mont Ventoux (1/2)

Today the kids started to climb of Mt. Ventoux early, Lisa and I opted for the van ride to the top, a 19km or so climb with grades of 10% and sometimes more. We set out more than a hour after they did and passed them on the way up to "base camp" - Chalet Reynard, about 6km from the top. At this point, there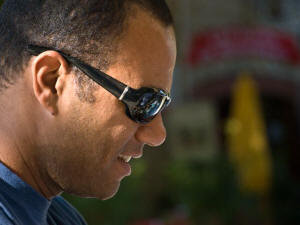 are no more trees or practically any vegetation. From here on it is stone as you can see on the mountain from the distance. As we rose in elevation to this point, the temperature continued to drop. The temperature here was 3C and windy. We waited for them here for under an hour. Then they arrived, very cold. The decided to continue. So they warmed up, added layers, and set out.

In the parking lot here, were many buses bringing people up to see the top. An observation over the past the past week that I probably failed to convey was that yes, we saw many cyclists (on road bikes) on our daily travels. And as the days passed and as we got closer to this mountain, we say more and more of them. With better and better bikes, and better and better jerseys. Point is, the mountain attracts the serious cyclist that wants to climb.

Anyway, we passed them on the way up, the final 6km. We stopped the van a couple of times for me to take photos.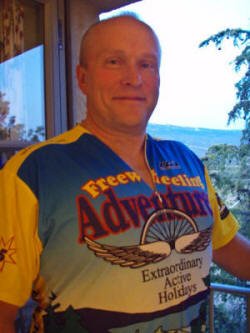 Brrr it was cold. The temperature kept dropping, we were now in the clouds, there was not much of a view of the valley; and, we could hardly see the tower at the top.

Then at the top, we stopped. It was -2C. Worrying that maybe it would be too cold, we drove back down to meet them. And we did. And they were cold. Bt determined to finish. So we turned around again and headed for the peak. And they arrived. Job well done. I was impressed.

After a short rest at the hotel, we went for a short ride do to some wine tasting. We also had the usual spectacular picnic lunch, and again there was foie gras (ie duck)! Very enjoyable, but for me, a bit to cool and windy. I do not think it went over 13C.

Back at the ranch I got into a warm bath, and enjoyed a glass of vin rouge. Marvellous. Tonight was our final dinner together. It was great. I had foie gras and leg of lamb, very nice. And of course, lemon ice cream for dessert.

We did 23km today for a trip total of 242 km. Tomorrow we depart for Avignon around 10am to pickup our rental car, our box of stuff at Aida's, and then head for our villa. The next phase of this vacation, tagged, the summer of Lisa and Geno.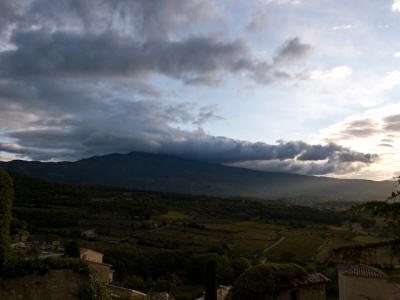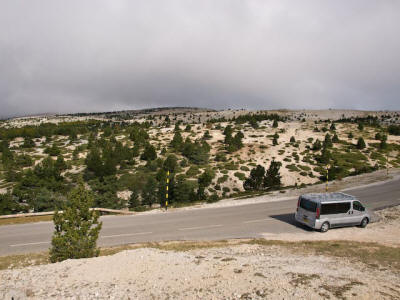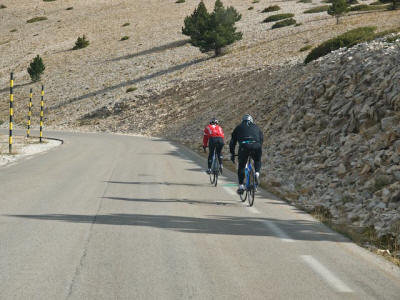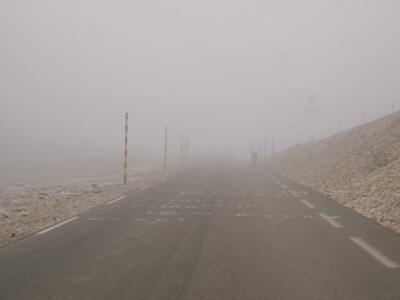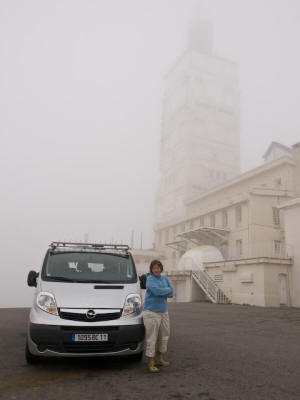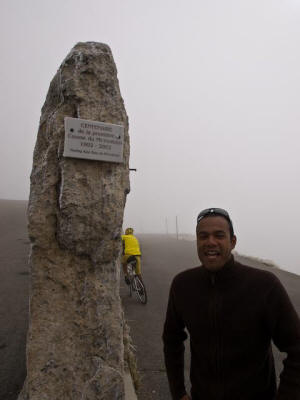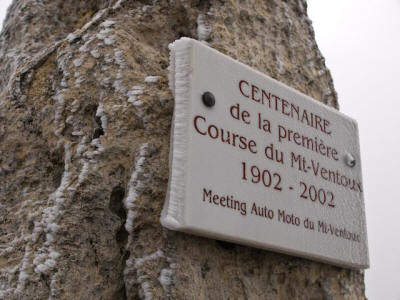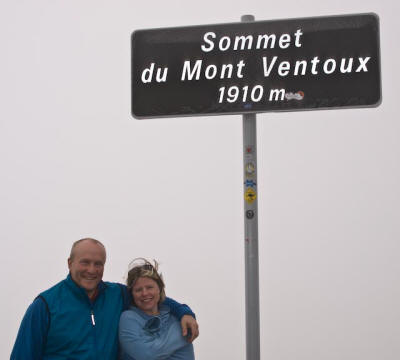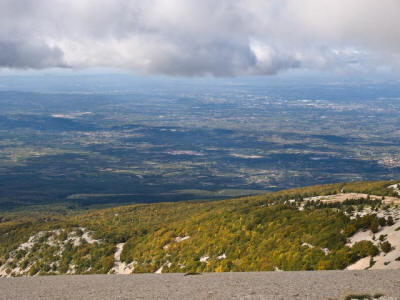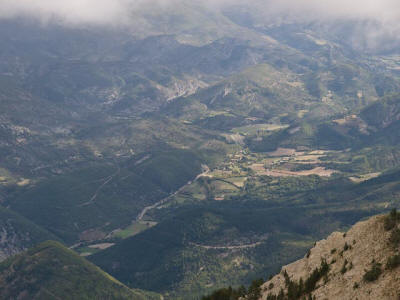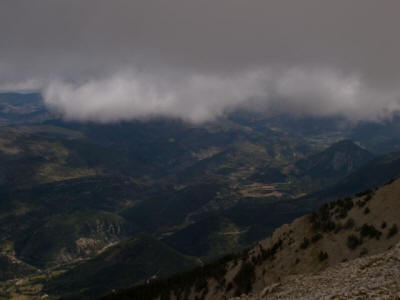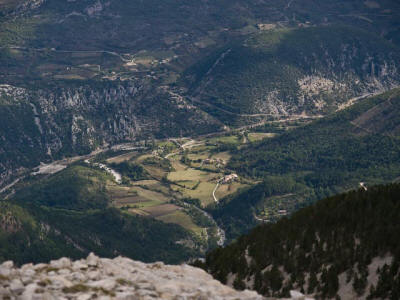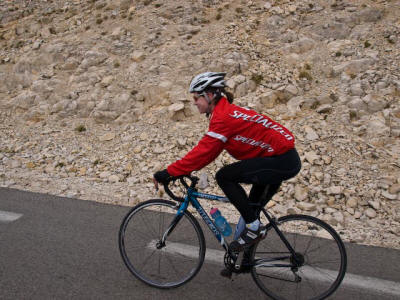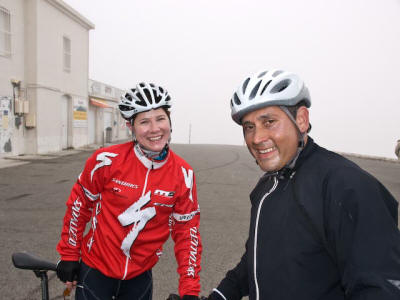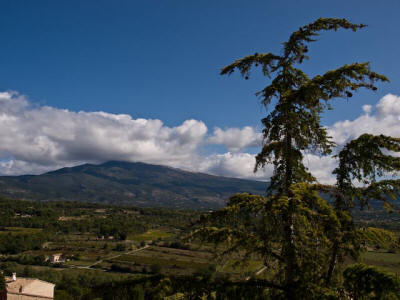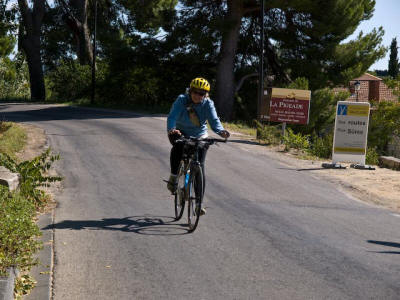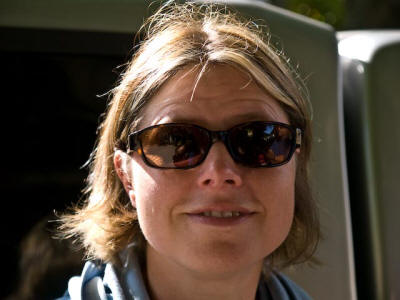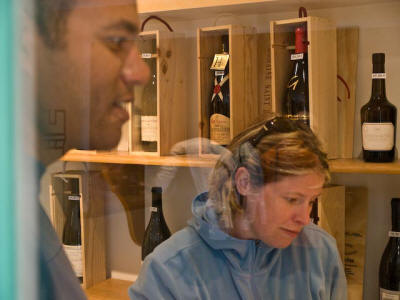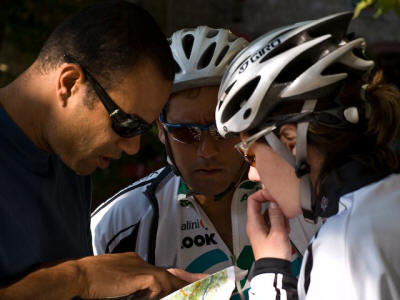 Dan and Jen are leaving very early in the morning to catch a train to Paris, so we said our good byes tonight.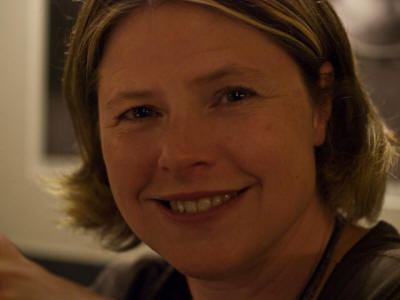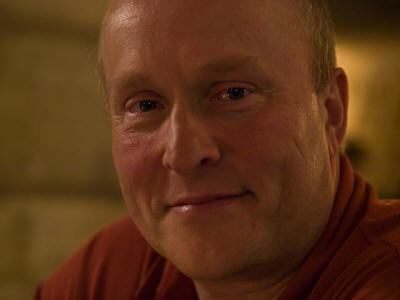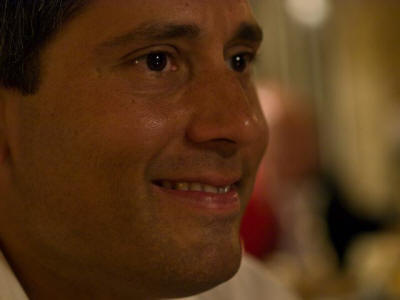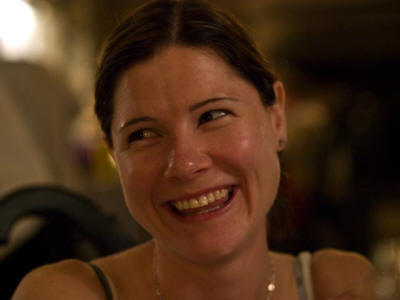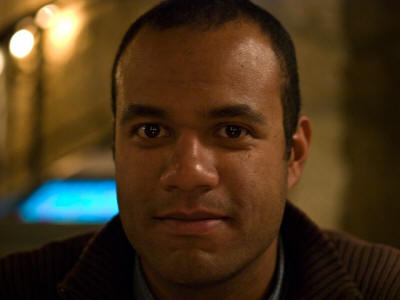 Day 27 - Saturday - Road to Avignon and Seillans...

This morning Philippe drove us to the TGV train station in Avignon where we were getting our rental car. We said our good byes. Philippe was a great guide, great organizer, great picnic maker. Philippe is a great guy! He did it all and took care of us all week. Hope we meet again Philippe.

At the TGV we tried to upgrade to various BMWs (my preference of course) but they just don't stock them at this location. Of well, the Peugeot 407 6 speed 170HP will have to do (for now).

We then set up to get to Aida's apartment in the old walled city. We knew which gate to take, yet it was the third gate we tried. The first two times forced back out by one way and too narrow roads. When we finally got to he corner, I dropped Lisa, was forced to loop around. So I tried to go around and come up her street - but that same white car that parked there the whole time we stayed there was there. Parked in the middle of a one way street barely wide enough for one car, no sidewalks. Even if I wanted to go down that street, and good thing I looked before attempting to turn down it, not sure I could have negotiated the turn without rubbing the car on the walls of the buildings. It is really that tight. Anyway, got back around the where I left Lisa off, and she jumped in and we took off.

Then it took about 10 minutes of driving to find a place to pull over and plan our route to the villa. We decided to drive to Seillans via Gorges du Verdon. This took us off the main drag - really, I am not kidding. We had the car GPS and our portable one working, both of them taking us up and down mountains, with roads one lane wide, no guard rails, steeper than the bike routes and narrower. Every time it threw us back onto a "sane" highway, it was a tease, for a mere km or two before we were climbing back up or down. And always taking us through the villages along the way. So we were visiting this part of France as we did on bike, except these climbs were a lot less effort; but, for me driving, much more taxing, requiring much concentration.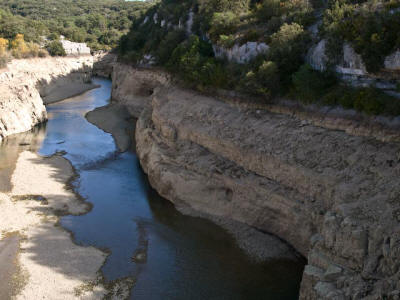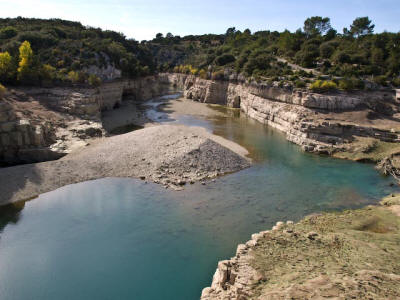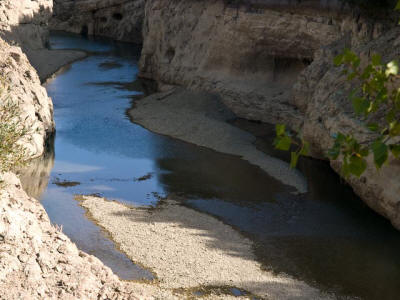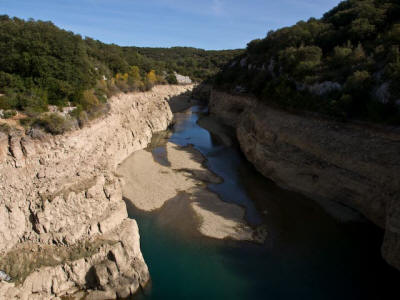 On the phone to Dan our villa owner, we were told it would take us many hours to traverse this route, so we abandoned the plan and set the GPSs to Seillans. Now we were two hours away. And we stayed that way for it seem like half an hour. The GPSs assume the speed limit on these tiny roads is the default 90 km/hr, which I could not achieve let alone maintain nor want to.

By 5:30pm we arrived in Seillans (240km drive from Avignon via our tourist route), met Dan, got the tour of the town and the next one (Fayence), and the house. No power. Seems they had a power failure due to wind a couple of hours earlier. What a house. Too bad no one could join us, just the two of us in this mansion. Four bedrooms, of which three will be empty. Power was back on within the hour. Lisa and I went down the road for dinner, busy little restaurant, with exceptional food. Drank half a bottle of wine, carried the rest home. We have given ourselves permission to watch TV tonight (satellite TV 300 stations) and bag off tomorrow (as long as we do some planning for the few days thereafter).

As I add photos to today's blog - the power goes out again. What is this, NS Power? Anyway, it attempts to come back on once but fails. Lucky my laptop has battery power and I will continue my work here. Came back on quickly. Over night, heard a funny noise, I think it was the power coming on again.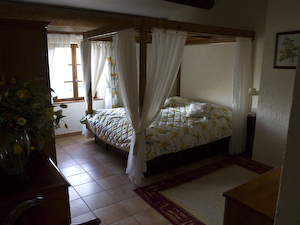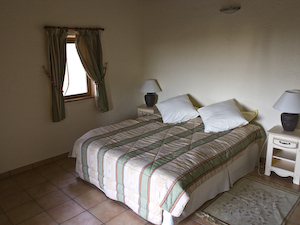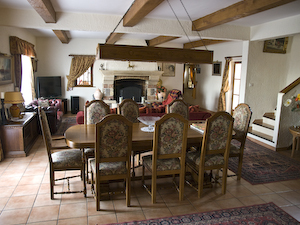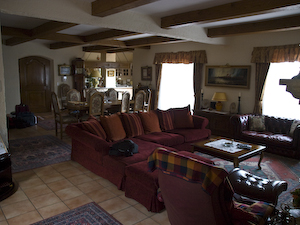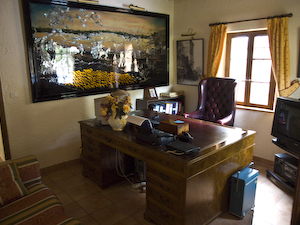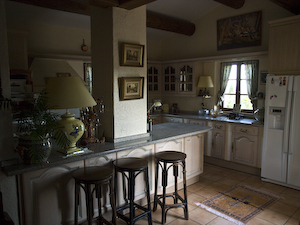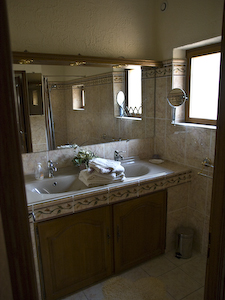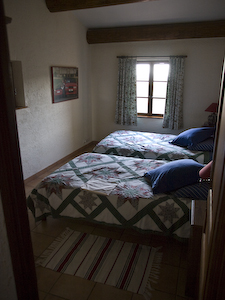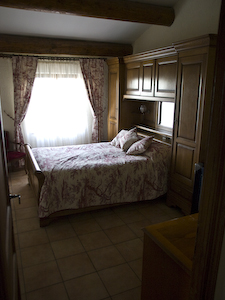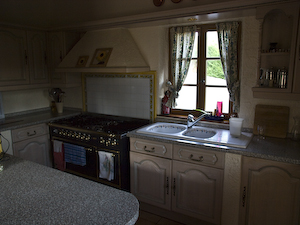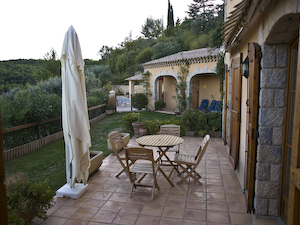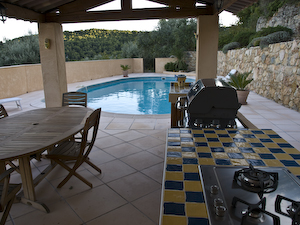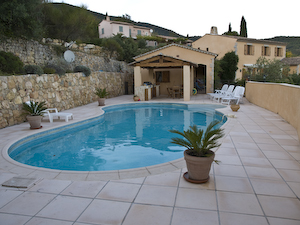 Day 28 - Sunday - Seillans & Fayence

We slept in today, then drove to the nearly "8 to 8" (like our 7-11) for eggs, juice, and all the necessary breakfast items. Then a short but windy ride to Fayence to the "good" boulangerie. Boy did it get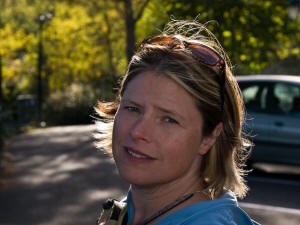 crowded in their quickly. The ride home much the same. Fast as you can outside of town limits, hug the side of the road especially on hair pin turns, always competing for as much of the road as you can garner. As I type this and await breakfast, I notice that on the satellite TV there two channels with "Two and a Half Men" back to back all day. Better than being at home. LOL.

After a lazy afternoon, we strolled through Seillans. Very small, main street is barely one lane with a light at each end to allow one way traffic. The town is 11th century, one of the few to survive the plague. When it was going on, the closed the gates and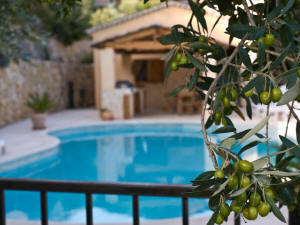 allowed no one in or out. Later, we got in the car do shop for dinner. But, we are in France. Things are open only on occasion, their occasion, and try guessing what that is. Like the diners that close between 12 and 3pm, and the pharmacies that close similarly. Since everything was closed, we drove to Fayence. A town atop a hill. So as when cycling, we climbed it. This time in the car. Hair pin turns all the way up. And on them one must hug their side of the road because it is a two way narrow road. At the top is quite the town. We decided to grab a bite and stay in tonight and eat from the meagre supplies we bought yesterday and this morning. So now we are going to chill for the evening, as we had planned yesterday, a guilt free lazy day. We need to think out what the plan is for tomorrow. Maybe Monaco? Maybe St. Tropez? Maybe Nice? Maybe Cannes? Or some combination thereof. And we do want to see the Gorges du Verdon. The photos I am including today are of Seillans. The first one below one of the views from our bedroom.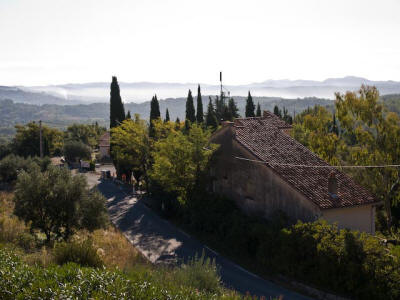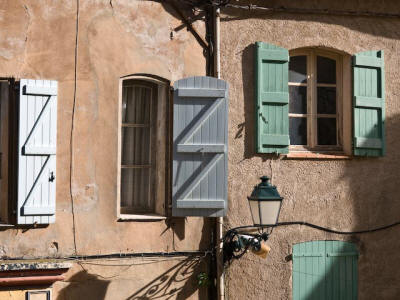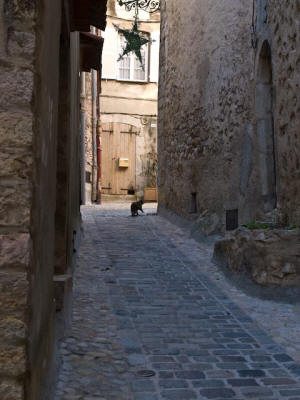 Go to Day 29
Quick links:
HOME | 01 - Split | 06 - Split/Sail | 10 - Sail... Mljet | 14 - Dubrovnik cont'd | 18 - France | 21 - Cycling | 25 - Cycling cont'd | 29 - Villa cont'd | 32 - The Rest