07 - Harrod's
Awoke this morning to – yes rain. So we slept in and got our butts onto the street just past noon - for a medium SFHNFL. Then off to the shopping district today in Knightsbridge via the underground.

First place of call was Harvey Nichols, an uppity department store. We we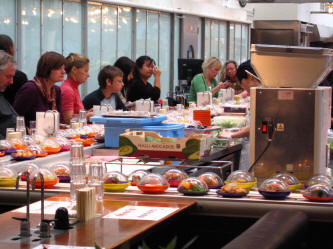 nt up and up and up until we reached the top, where we found a Pete's Frootique kind of thing IMHO. There was a bar and an eating area where the desserts traveled around the table on a conveyor belt, to under you nose, whispering "eat me". Not a chance, probably cost a couple of fivers. There was also an organic bar dining area, a full grocery including fish, a butcher, baker, and candlestick – no – a fruit section. Very cool. We saw Canadian Cherries – 19.99 quid a kilo, that's about $22CDN a pound – check the photo – they looked terrible. Anyway, I bought a ½" thick slab of Pencetta, (raw cured bacon) the kind my father would approve of, for a snack later tonight. Yummy it was!

Anyway, I am getting ahead of myself. Next stop Harrod's. Cool, big, wow. The ground floor, not the first, that is on the second level (in England)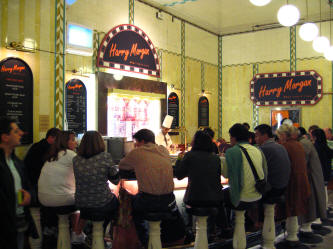 was divided into halls, each hall having something different. There was the usual cosmetics (you can smell them before you see them), jewelry, watches (most of them 10,000 quid and up) – ridiculous in a world where some people don't have basics like food and shelter. I know, I have a zed, didn't say I was perfect. Then there were halls and halls of food, chocolate and candy hall, pastry hall, grocery hall, meat hall, fish hall, you name it. And each hall had an eating area in almost each corner - shrimp bar, oyster ball, chicken soup and sandwich bar, rotisserie chicken bar, etc.

We then went up to the first floor (on the second level) and so on. Saw some really nice pianos – DO NOT TOUCH said the big orange sign on each one, nice exercise equipment – DO NOT TOUCH, road bikes designed by Ferrari – DO NOT TOUCH – not only that, they were on display behind a big red rope as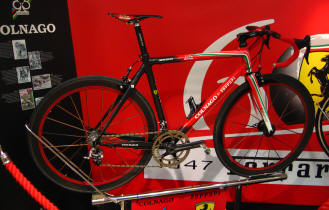 if they were in a museum. And they were only around 4 thousand quid.

Bought a road bike jersey with graphics from the English portion of the tour de France 2007 (steroids not included). Wonder if they have a steroids hall? At first the older gentleman in charge of the bikes pissed me off a tad – the wanker – as he came running after me when I leaned over to take a closer look at the bike's rear derailleur and take a photo. He actually thought I was going to touch it I overheard him tell his trainee. I just spoke up and said, "don't worry I wasn't going to touch it". Anyway, he was helpful with getting me fitted into the jersey. When he escorted me to the fitting room, he pointed out that if I wished, there was a bottle of cologne on the shelf if I wished to freshen up afterwards. I did, it was a very expensive bottle of Ralf L., and I can still smell it.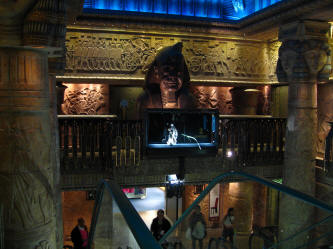 Yes I used it. I took 2 very expensive squirts – into the air in front of me, and then walked into it. That is how it is done.

Another conversation I had with the old wally was when he was suggesting I try on instead a pub logo'd jersey instead because it would have a looser fit for the beer swigging / dart throwing cyclists. I mentioned that I haven't seen a dart board in a pub yet over here. He asked "what is a dart board"? BLIMEY! You brought up the dart reference. <Lisa says he was trying to be funny.> So I replied, "dot bode". Then he knew what I meant. J

After Harrod's, "we" wanted to do some more shopping but a bit of rain fell on me head (got me out of that), so we stopped into a corner pub for a pint and some fish and chips. Duck 3, Caesar salad 3, fish and chips 3 – in case you are keeping score.

Still raining when we got out, we decided to hit the Science Museum (my choice) for an hour before it closes. The science museum bites. And when they say closes at 6,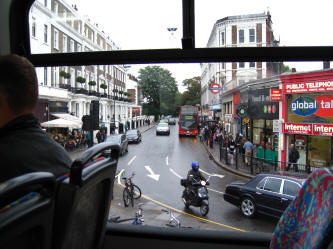 it means they are telling you and herding you out (unless you wish to go to the gift shop) at half five. No biggie. It sucked. Should have gone to the Victoria and Albert instead (Lisa's choice).

Some more walking (aimlessly) in the rain until we hopped aboard #14, a double decker back to the hotel. Along the way we marveled at the sites, the roads, the traffic, the people, the people almost getting killed in the traffic, the cars and buses and how they corner so well in these narrow streets. Very cool.

Hopped off, bought groceries and Marks & Spensers, got some wine, and ate in our room (for only 20 quid)! As I type, I smell yet another odor, oops that is me, all the walking, my feet could use a walk into a few sprays of RL. Off to the shower. Tomorrow the zoo, some parks, the outside – please let there be sun in England.

N/A
Knightsbridge