09 - Kew Gardens
To make a story short, as Lisa planned our day this morning, I went across the street to Starbuck's. Then off we were to the underground and a transfer later we were in the quaint (well off) town/suburb of Kew. A short walk later and we were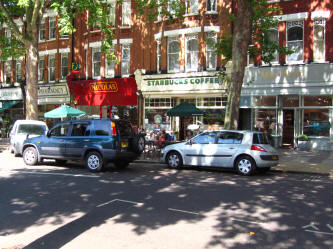 in and enjoying the grounds. They were beautiful. They have so many species of so many plants from so many places around the world. This is a must see. After touring Kew Palace, we had biscuits (with clotted cream of course) in the Orangery. Much cheaper here.

After 5 hours or so of walking and enjoying the botanical paradise we were thinking of taking the Thames cruise back. We walked to the dock, no can do, it was low tide. So we walked back to the station where we arrived a tad late (because I noticed a quaint Starbuck's near it). So I had to have another warm glass of milk.

On our ride back, we were "entertained" by a bloke playing a broken guitar in our cabin. I made the mistake of pointing a camera at him. When he was done he outstretched his hat and as I turned away he called me on it. "… people that point cam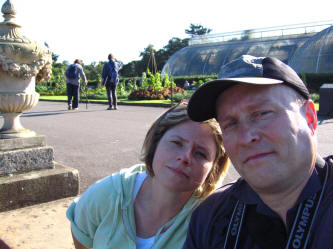 eras at me and then turn away when I ask for a donation …". I gave him a quid even though Lisa said not to. He got off next stop (so we thought) and later upon starting out again he came from a cabin behind us (which one should not do on a moving subway car) in a very bad mood and kept advancing to yet a more forward cabin. Wanker! Wally!

Next stop on jump a bunch of blokes just coming from a football match – Chelsea and they beat Portsmouth – sorry Tony. There was a bunch of them, a bit noisy, carrying a bag of beer and drinking and being a bit uppity to the ladies on the train. Lisa asked if they won.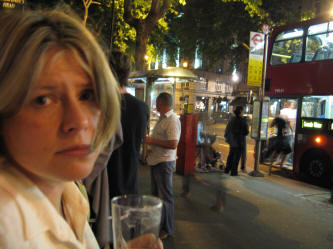 They did. They were noisy and happy and having a good time. One of them had a best bloke who lived in Canada, didn't know where, but Canadians were the same as Americans – so he said. Lisa called it "bait".

Once back to the hotel, we quickly were off to a pub for a couple of pints and a Caesar and fish and chips. We finished our pint out in the street with the rest of them who grab their glass and stand out in the middle of the sidewalks. Cool? Before we hit the pub, we did sit down in an Oriental restaurant which served duck – I passed on that place.

If you are still counting, and I know some of you are… SFHNFL 6, duck 4, Caesar 5, F&C 4, scone/clotted cream/jam 3.

Oh, did I mention the sun was out – all day – not a cloud – very nice.


The Streets & Beer
Kew Gardens