12 - Winchester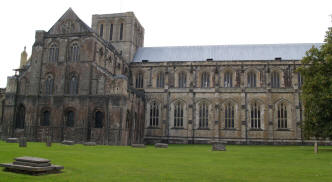 Up early, all ready packed and a quick checkout, into a cab and off to Waterloo Station (15 minutes away). The train ride to Winchester was a comfortable one hour plus ride, where Jane and Tony were waiting. They are so great! Luggage into the boot, car into the lot, and off to see Winchester Cathedral, the longest Cathedral and it was from medieval times, of course built by the Catholic church and later stolen by Henry VIII who couldn't kee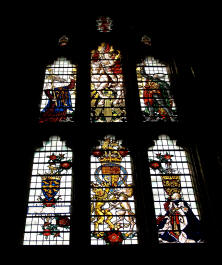 p his willy in his pants… You know the story. We also visited the site of the round table (a replica built in the 14th century) where Sir Lancelot (supposedly) hung out. It is most likely a good piece of fiction. But nice never-the-less.

After a quick pint and a great sandwich, we were off to Portsmouth. Once back, we did some quick shopping, I wanted another pair of those great pants, Tony assisted me to ensure I did not buy the same color as the last ones. He also spotted a great looking golf shirt for me. He knows what I like and how to take care of me. Jolly good mucker he is. We spent over 50 quid so we are getting our 17% VAT back vi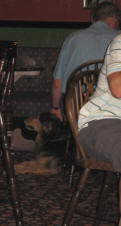 a the post.

After that, we were once again treated to another culinary delight of Tony's, and as always, it was superb!

Then off for a pub crawl, starting at the Florence and ending at the Florence with no other pubs between. It was a true English pub, one where Andy Capp would be proud to hang up his hat and enjoy a bitter. Not me, I stuck with the light ale, I kind of like Foster's, an Aussie beer. Sorry Tony.

At the pub (where dogs are allowed) (two customers brought their dogs, how cool is that), we met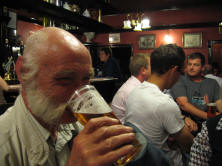 a very interesting chap that Jane and Tony knew, Michael, who participates in historic re-enactments. He sounded like he knew his British history. Tony sort of agreed and said he also knows when and how to shoot the shit. J

The bell rang for "last orders" and then again for "time gentlemen please" meaning you got 20 minutes to drink up and get out. Quaint.

A short walk later I was reading up on the driving tomorrow and then blogging, and now off for some well needed rest. Cheers.


Pub Crawl - Pre - at - Post
Winchester
Pub Crawl