11 - Last Day in London
I was a bit under the weather, no doubt from living in the rain for a week or so, so I slept in while Lisa went shopping in Covent Garden. She retu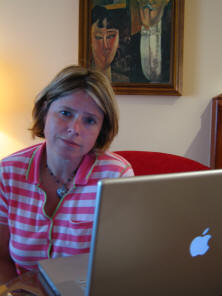 rned around 1pm wielding a SFHNFL or as the say here a sugar-free hazel nut skinny latte.

Then Lisa was thinking about the article of clothing she wanted at Harrod's the other day but they didn't have her size, but they were supposed to be in this week so I suggested we get the tube and hop on over. Took literally minutes. Cool. On the way back, we stopped in Covent Garden (formally know as Convent Garden) (but as they pronounce it here, with the silent en, they finally decided to drop it from the word). So eventually, the area where our hotel is located, called Holborn, pronounced ho-bun will be respelled as Hobun. Cool, a dynamic language.

In Covent Garden we decided to visit the National Portrait Gallery. This is a must see. This was fantastic. Makes me want to get a history book on England and trace the history of the rulers and how they came to be rulers. Who they married, who they slaughtered, all that good stuff. So much history. But, that is someone else's history not mine, so I will stick to reading up more on Croatia and it's even longer past.

I must say, one difference I noticed between London and Paris (and I wasn't in Paris long enough for this to be true), but it seemed that in Paris almost everyone spoke French when on the street or mingling in crowds. Here, on the tube or the street or in museums or in pubs, I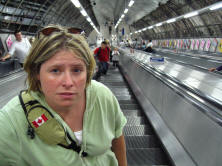 would say that 1 of every 4 conversations I was able to hear was non English. It was French or Italian, or eastern European, or a language from Africa, or Asia, I even heard people speaking Hrvatski. Jolly good. Made me feel like I was in Toronto ie back home. It is so nice to see the "melting pot" somewhere other than just at home. Reminds you that you and your culture/language are not the center of the world or the only one on the planet. Very refreshing! Of course, we stopped in for another "skinny" on the way back to the hotel.

We had a small hitch getting refunds on our Oyster cards, I think it was a lazy or uninformed transit employee. But we got that resolved. The transportation system here is currently in a bit of a pickle maintenance/cost-wise with funding/contracting trying the PPP way and it not really working. Employees of the PPP company(s) threatening 3 day strikes, the city threatening to buy them out until the work is done and possibly selling them to the private sector when done. Either way, the transportation system here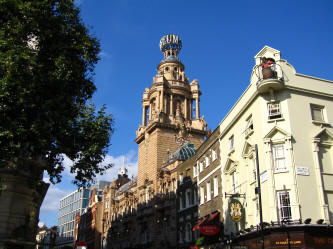 to me is flawless, I mentioned this to the transit employee who did refund us and he said THANK-YOU I wish you could convince our citizens, many of which complain and complain especially in regards to the Oyster card.

The Oyster card is a prepaid swipe card that you can top up whenever, looks like a credit card, as you get on a bus or tube, you just hold it over the sensor, it registers you, and gives you your remaining balance. When in the tube, you should always swipe on the way out so that you are charged only for the zones you traveling through and not the maximum. They guarantee that you will get the best possible price, a daily maximum. So if for example, the maximum daily rate on the transit is 6 quid, no matter how many trips you take, your card will not be debited past the 6 quid. So if you trust big brother, no thinking involved, you always get the best/lowest price.

Street crossing here is an art. It takes sometimes 3 lights to get across one street. Wait for green, hop to island. Wait for another green, hop to center of road and possibly to the next island. Wait for another green and finish your cross. That is why, you read the street in front of you, look in that direction, and take a chance. Everyone does, and it seems to keep people and traffic moving. That said, we have a video recording live where Lisa and I did get across a street in one shot.

Tonight we were about to dine at Papageno's until we walked in at sat down. It was a very garish interior, not Italian but Turkish. So we walked across the street to a nice French restaurant (actually two doors down from the nice French restaurant we dined in last night). This one, Café Du Jardins, wins hands down. Lisa had a great steak done to her liking (rare) and I had a Caesar and the duck. I have had many Ceasars since landing in England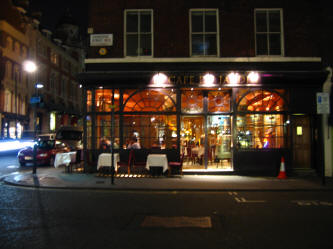 , and they were for the most part tasty – no two alike – and none of them even close to what a Caesar should taste like. We then had dessert capped with a cappuccino and Bailey's (Lisa's usual) and I have a Remy Martin. Dan that would be Cognac. Anyway this meal was second only to The Savoy – but at half the cost.

As I finish my words for the evening, I give Lisa my full moral support and cheerio as she packs for the train ride tomorrow. Instead of going straight to Portsmouth, we are going to meet the Chicks in Winchester for some sightseeing.

Race cars are T-2 days away and counting… Actually I was having such a good time, I never thought of them till now. And if you are still with me, SFHsL 8, duck 5, Caesar 7, F&C 4, scone/clotted cream/jam 3.



Lisa's Movie and more