08 - Regent's & Hyde
Well this morning we decided again to sleep in a wee bit, but we were out and on the road for our SFHNFL (my third) by I don't know half 10 – who cares – we are on vacation.

Down the "chube", off to Regent's Park where we walked the length of it to the London Zoo. The zoo was a great place to spend a few hours. Not crowded, but enough people around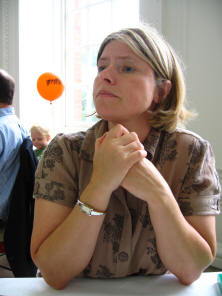 to make you feel a part of something. <If you've been to Toronto Zoo, unless you want a few hours to kill, skip this zoo.> While at the zoo, the sky got bright, then dark, then some showers, then bright(er) and on and on.

After the zoo, we walked the park again a different route. The British know their open spaces. Many of them, vast green expanses. Not the Public Gardens in the way of grooming, and not like Point Pleasant park in the way of a treed park. Somewhere in between. Very spacious, open, kids and adults alike kicking a football around whether in shorts or suits or mini-skirts.

Then onto a double-decker to Hyde Park. It was just across the street. But to get to it, we walked thru a maze of up and down underground passages since there are no pedestrian crosswalks at the Marble Arch entrance near / Speaker's Corner. Again, a very large spacious park,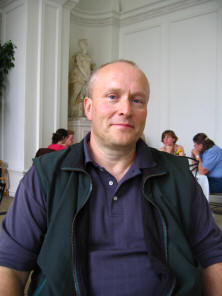 with trees and ponds, and people and swans, and ducks (smack) and Canada Geese. Walked to Kensington Palace, didn't really look impressive to me and I was not going to support the Monarchy by paying to get in. Instead, we had tea at the Orangery and paid 40 quid for 2 lemonades, 2 scones with clotted cream and jam, and a share plate of cheese. The choice was cheese or ham; not both, or both for an additional 7 pounds. So the Queen got our money anyway, God bless the Queen.

From here, a couple of buses home – oh and the sun came out – and my sunglasses of course (both pairs) are back at the room. No big deal, there is still tomorrow. Just before going up to the room, stopped of for a warm milk (yes a SFHNFL).

Tonight was Lisa's pick for dinner. So to surprise here while she wasn't looking, I dressed up in my suit. Heh heh heh. Forced her to dress up. I figured if I was dragging that crap across the ocean, I might as well use it more than once!

We could not find the place, so I took over and found us a nice cafe called Savoir Faire a few blocks from the hotel. Wow, the tables were so close together, there must have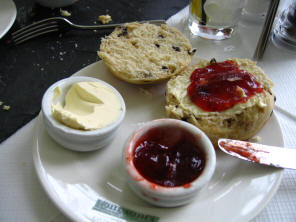 been 20 people in a room the size of my living and dining room combined. Bothered me at first until I acclimatized. Lisa had beef bourguignon. I had the duck. I suggested a ½ bottle of wine, Lisa said no way a full bottle. When all was done we had a ½ bottle left. BUT this is London, we asked for a cork and we carried it back to our room in hand - no bag. And as we walked, we walked past pubs where people buy there beer and then stand out on the street and drink. There were dozens of people on the streets in front of each pub. For one it was cooler, and secondly there is no smoking inside.

There is NO smoking in any buildings, pubs, restaurants etc over here. Including open public spaces. And they did it right over here from the start, NO for everyone, NO exceptions, NO to those establis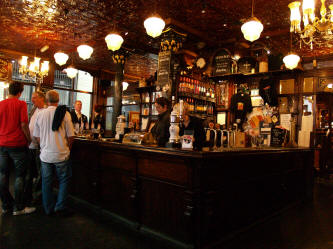 hments that may have been able to afford to build smoke bubble sections of their establishment. Just NO. Jolly good.

Once we got back to the room, I suggest we hit the bar and have a drink. The Grey Goose Vodka I had last time (and at the Savoy) I remembered as being especially good. We noticed it was also 4 quid more than the Absolut. As it was I got a banana daiquiri and Lisa got a Bailey's on ice. LISA! We have a bottle of that in the room that we brought across duty free. Arg! J

SFHNFL 4, duck 4, Caesar 4, F&C 3, scone/clotted cream/jam 1.

One last observation… seems the battle of the northern passage is all the rave in the news over here. Polar bears… Global Warming… The Russians planting a flag on our seabed. Harper is in every news cast with our position – about time! They say Canada has finally decided to stand up for themselves." Jolly good Harper me mucker. Hmm, Tony says "me mucker" is a good thing, not by the dictionary...


Film Shorts (90MB, OK if you have high speed internet)
Regent's, Zoo, Hyde, Orangery